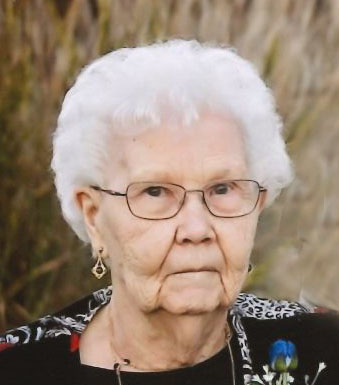 Agnes E. Schroeder
Visitation Dates and Times

Thursday, June 6, 2019 5:00-8:00 p.m.
Friday, June 7, 2019 8:00-9:30 a.m.

Visitation Location

Moss Funeral Home, Germantown
Service Date

Friday, June 7, 2019

Service Time

10:00 a.m.

Service Location

St. Cecilia Catholic Church, Bartelso
Full Obituary

Agnes E. Schroeder, age 94, of Bartelso, died Tuesday, June 4, 2019 at HSHS St. Joseph's Hospital in Breese.

She was born January 20, 1925 in Leoti, KS, a daughter of the late Herman and Martha, nee Lake, Hustedde.

In addition to her parents, she was preceded in death by her husband Frank Schroeder, Sr., whom she married February 9, 1949 at St. Anthony's Catholic Church in Beckemeyer and he died February 18, 2018; a daughter, Donata Absher; siblings, Nora Hamblin and husband Bailey, Bernadine Jones and husband Ed, Robert Hustedde and wife Mary, Mary Ann Beckemeyer and husband Clinton, Ed Hustedde and wife Tess, Leonard Hustedde, and Loretta Hubbard and husband William; father-in-law and mother-in-law, Henry and Caroline, nee Eilers, Schroeder; and brothers-in-law and sisters-in-law, Lloyd Pulver, Frances and Oscar Wiecking, Laura and Henry Koczur, Alvina and Henry Heet, Cornelia and Art Schomaker, Adeline Schroeder, Alvin and Wilhelmine Schroeder, Ed Schroeder, Henry Schroeder, and Dolores Schroeder.

Surviving are her children, Carol (Kerry) Price of Washington, MO, Rebecca Price of Union, MO, Diane (Terry) Storey of Ina, Kenneth (Barb) Schroeder of Bartelso, Marilyn (Joe) Ottenschnieder of Germantown, Kevin (Karen) Schroeder of Breese, Frank Schroeder of Germantown, Steve (Lisa) Schroeder of Bartelso, Shelly (Darvin) Zeisset of Aviston, and Timothy (Stacy) Schroeder of Albers; grandchildren, Jennifer Griffin, Dale Price, Sarah Nowak, Megan Woodcock, Scott Price, Amy Donoho, Tracy Ellis, Chad Storey, Nick Schroeder, Jacob Schroeder, John Schroeder, Curt Ottenschnieder, Brian Ottenschnieder, April Alberternst, Alyson Weaver, Katrina Hays, Ryan Schroeder, Raquel Schroeder, Tyler Schroeder, Evan Schroeder, Robert Absher, Danielle Grapperhaus, Nathan Zeisset, Matthew Schroeder, Elizabeth Schroeder, and Tessa Schroeder; thirty-five great-grandchildren and was anticipating the birth of four more great-grandchildren; siblings, Vera Pulver of Beckemeyer and Sr. Germaine Hustedde, PHJC of Donaldson, IN; and brother-in-law and sisters-in-law Cletus Schroeder, Dorothy Schroeder, and Joan Schroeder all of Germantown.

Agnes was a homemaker and a member of St. Cecilia Catholic Church and Altar Sodality in Bartelso and the HSHS St. Joseph's Hospital Auxiliary. She enjoyed quilting, sewing, and crocheting.

Funeral Mass of Christian Burial will be Friday, June 7, 2019 at 10:00 a.m. at St. Cecilia Catholic Church in Bartelso with Fr. James Buerster presiding. Interment will follow in St. Cecilia Cemetery, Bartelso.

Visitation will be Thursday, June 6, 2019 from 5:00-8:00 p.m. and again on Friday, June 7, 2019 from 8:00-9:30 a.m. at Moss Funeral Home in Germantown.

In lieu of flowers, plants, and other gifts, memorials may be made to the BrightFocus Foundation, St. Cecilia Catholic Church, Mind's Eyes, or the wishes of the family and will be received at the funeral home.