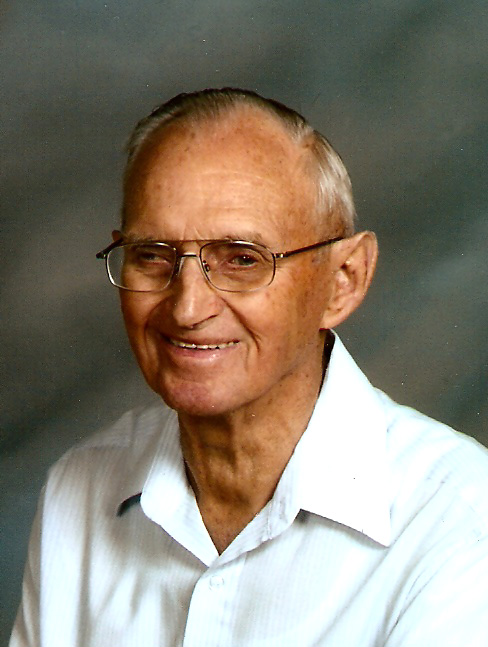 Alfred H. "Al" Molitor
Visitation Dates and Times

Friday, February 22, 2013 4:00-8:00 PM
Saturday, February 23, 2013 8:00-9:30 AM

Visitation Location

Moss Funeral Home, Germantown
Service Date

Saturday, February 23, 2013

Service Time

10:00 AM

Service Location

St. Boniface Catholic Church, Germantown
Full Obituary

Alfred H "Al' Molitor, 92, of Germantown, died Wednesday, February 20, 2013 at Aviston Countryside Manor.
Mr. Molitor was born October 22, 1920 in Germantown a son of Henry and Caroline (Lampe) Molitor; they preceded him in death.
He married Frances Hilmes on May 5, 1947 at St. Boniface Catholic Church in Germantown; she preceded him in death January 11, 2006.
Also preceded in death by brothers, Paul, Aloys "Ollie", and Joseph Molitor; sisters, Hilda Kuhl and Sr. M Lauretta PHJC "Alfreda", brothers-in-law, Edward Kuhl, Alvin Boeckmann, Phillip Walsh, Erwin Lampe, Lawrence "Boop" Hilmes, Clarence "Stix" Hilmes, Greg Hilmes and Joseph Hilmes; and sisters-in-law, Mary Molitor, Joey Molitor, Amanda Molitor, Henrietta Hilmes, Veronica Boeckmann, and Florence Hilmes.
Surviving are sons, Marvin (Jane) Molitor of Germantown and Dennis (Diana) Molitor of Troy; 5 Grandchildren-Jennifer (Christian) Jundt, Carl Molitor, and Pamela (Tim) Elliott , Michael (Nicole) Molitor, and Ben (Julie) Molitor;5 Great-Grandchildren-Austin and Haley Jundt, and Kyle and Maddie Molitor, and Matthew Elliott; a brother, Elmer Molitor of Collinsville; sisters Dolores (Erwin) Lampe of St. Louis and Chris (Phil) Walsh of Ballwin, MO; and sisters-in-law, Arlene Hilmes of Beaver Prairie, and Lynn Hilmes of Highland.
Al was a member of St. Boniface Catholic Church, St Henry's Men's Society and Mater Dei Fathers and Friends club. He also served many years as the scoutmaster for troop 273 in Germantown.
Al worked most of his life as a laborer at Peerless Enamel in Belleville, but his main love was farming. He worked the family farm until it was sold in 1978 and since, loved to show off his peonies, rhubarb, blackberries, and pecan crops that flourished in his yard.
Mass of Christian Burial will be Saturday, February 23, 2013 at 10:00 AM at St. Boniface Catholic Church in Germantown with Fr. James Buerster and Deacon Rich Bagby officiating. Interment will follow in St. Boniface Cemetery, Germantown.
Visitation will be Friday, February 22, 2013 from 4:00-8:00 PM and again on Saturday, February 23, 2013 from 8:00-9:30 AM at the Moss Funeral Home in Germantown.
Memorials can be made to St. Boniface Cemetery or to the St. Boniface Clock Fund and will be received at the funeral home.