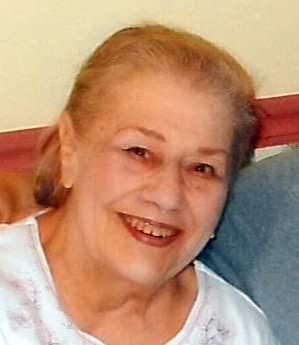 Ann Marie "Penny" Schlautman
Visitation Dates and Times

Monday, September 21, 2015 2:00-3:00 p.m.

Visitation Location

St. Boniface Catholic Church, Germantown
Service Date

Monday, September 21, 2015

Service Time

3:00 p.m.

Service Location

St. Boniface Catholic Church, Germantown
Full Obituary

Ann Marie "Penny" Schlautman, nee Almasy, age 75 of Germantown, born January 26, 1940 in Breese, a daughter of the late Joseph and Evelyn, nee Woods, Almasy, died Tuesday, September 15, 2015 at Aviston Countryside Manor.

Penny formerly worked at the Carlyle Shoe Factory, was a babysitter, and worked many years as a cook at Valbo's Restaurant in Germantown. She enjoyed sewing, stitching, and watching the Game Show Network.

Surviving is her husband James Schlautman of Germantown, whom she married November 25, 1961 at St. Dominic Catholic Church in Breese; her children, Deb Beckmann of Germantown and Mike Schlautman and wife Tamma of Indianapolis, IN; 6 grandchildren, Cambria, Zachary, and Tessa, Kristina, Chelsea, and Gracie; 2 great-grandchildren, Dustin and Levi; siblings, Barb Otten and husband Dave of Chester, Raymond Almasy and wife Sharon of Sparta, Carol Hartmann and husband Terry of Red Bud, and Sharon Dyke of Cape Girardeau, MO; and sisters-in-law and brothers-in-law, Joan Schroeder of Germantown, Jacolyn Schlautman of Germantown, Jeanine Spirek and husband Larry of Breese, David Schlautman and wife Mary of Germantown, Frank Schlautman and wife Flossie of Bartelso, and Jack Schlautman and wife Pat of St. Louis, MO.

In addition to her parents, she was also preceded in death by a daughter, Mary Schlautman; a brother, James Almasy; and her father-in-law and mother-in-law, Frank and Clementine, nee Jansen, Schlautman.

Memorial Mass will be Monday, September 21, 2015 at 3:00 p.m. at St. Boniface Catholic Church in Germantown with Fr. James Buerster officiating. Interment will be in St. Boniface Cemetery, Germantown.

Visitation will be Monday, September 21, 2015 from 2:00-3:00 p.m. at St. Boniface Catholic Church in Germantown.

Memorials can be made to Faith for Fallon and will be received at the church or through Moss Funeral Home in Germantown who is serving the family.