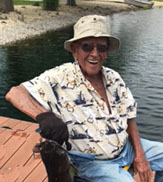 Anthony "Junie" Benhoff
Visitation Dates and Times

Tuesday, May 16, 2017 10:00 a.m.-12:00 p.m.

Visitation Location

St. Dominic Catholic Church, Breese
Service Date

Tuesday, May 16, 2017

Service Time

12:00 p.m.

Service Location

St. Dominic Catholic Church, Breese
Full Obituary

Anthony G. "Junie" Benhoff, age 80 of Breese, born November 11, 1936 in Breese, a son of the late Anton and Veronica, nee Hoh, Benhoff, died Thursday, May 11, 2017 at his home.

In addition to his parents, he was also preceded in death by a son, Randall Benhoff; father-in-law and mother-in-law Bernard and Elizabeth (Becker) Gebke, two sons-in-law, Steve Jansen and Jack Ashford; brothers, Leonard "Stix" Benhoff and Sylvester Benhoff; sisters, Marcella "Sally' Reiner and Dorothy Tebbe; and sisters-in-law and brothers-in-law, Marie Benhoff, Frank Reiner, Eugene Tebbe, Pat and Joe Haake, Betty and Alphonse Eversgerd, Bernard "Junior" and Rita Gebke, Norbert and Clare Gebke, Corny and Helen Gebke, Tommy Gebke, Bernice Gebke, Greg Eversgerd, Arnie Michels, Stanley Goewert, and Paul Jansen.

Surviving is his wife Agnes "Aggie", nee Gebke, Benhoff of Breese, whom he married June 29, 1955 at St. Cecilia Catholic Church in Bartelso; her children, Connie Ashford of Breese, Tom (Deb) Benhoff of Pocahontas, Bruce (Cindy) Benhoff of Breese, and Tina (Joe) Schmeink of Carlyle; 12 grandchildren, Phillip (friend Niki Baker) Jansen, Keith Jansen, Ryan Jansen, Kurt (Christina) Benhoff, Brooke (Brandt) Neibuhr, Kyle (Jessica) Benhoff, Alicia (Jon) Howard, Brett (Gina) Benhoff, Jacob (Megan) Benhoff, Tara (friend Kurt Heimann) Benhoff, Kelsey (Nathan) Tucker, and Clinton Schmeink; 15 great-grandchildren; a sister, Mary Ann (Don) Schmitz of Carlyle; and brothers-in-law and sisters-in-law, Larry Gebke of Germantown, Cleo Eversgerd of Trenton, Sis Michels of Germantown, Dolores (Ted) Kohnen of Germantown, Rosemary Goewert of Belleville, Margie Jansen of Bartelso, and Blanche (Bob) Kohrmann of Bartelso.

Junie retired from Prairie Farms Dairy in O'Fallon and was a member of St. Dominic Catholic Church in Breese and Teamsters Local 50-Swansea. He enjoyed watching the St. Louis Cardinals and loved being outdoors where he would fish, work in his garden, or sit on his deck.

Memorial Mass will be Tuesday, May 16, 2017 at 12:00 p.m. at St. Dominic Catholic Church in Breese with Fr. Patrick Peter and Deacon Linus Klostermann presiding.

Visitation will be Tuesday, May 16, 2017 from 10:00 a.m.-12:00 p.m. at St. Dominic Catholic Church in Breese.

Memorials may be made to the donor's choice and will be received at the church or through Moss Funeral Home, 535 N. 5th, Breese, IL 62230 who is serving the family.