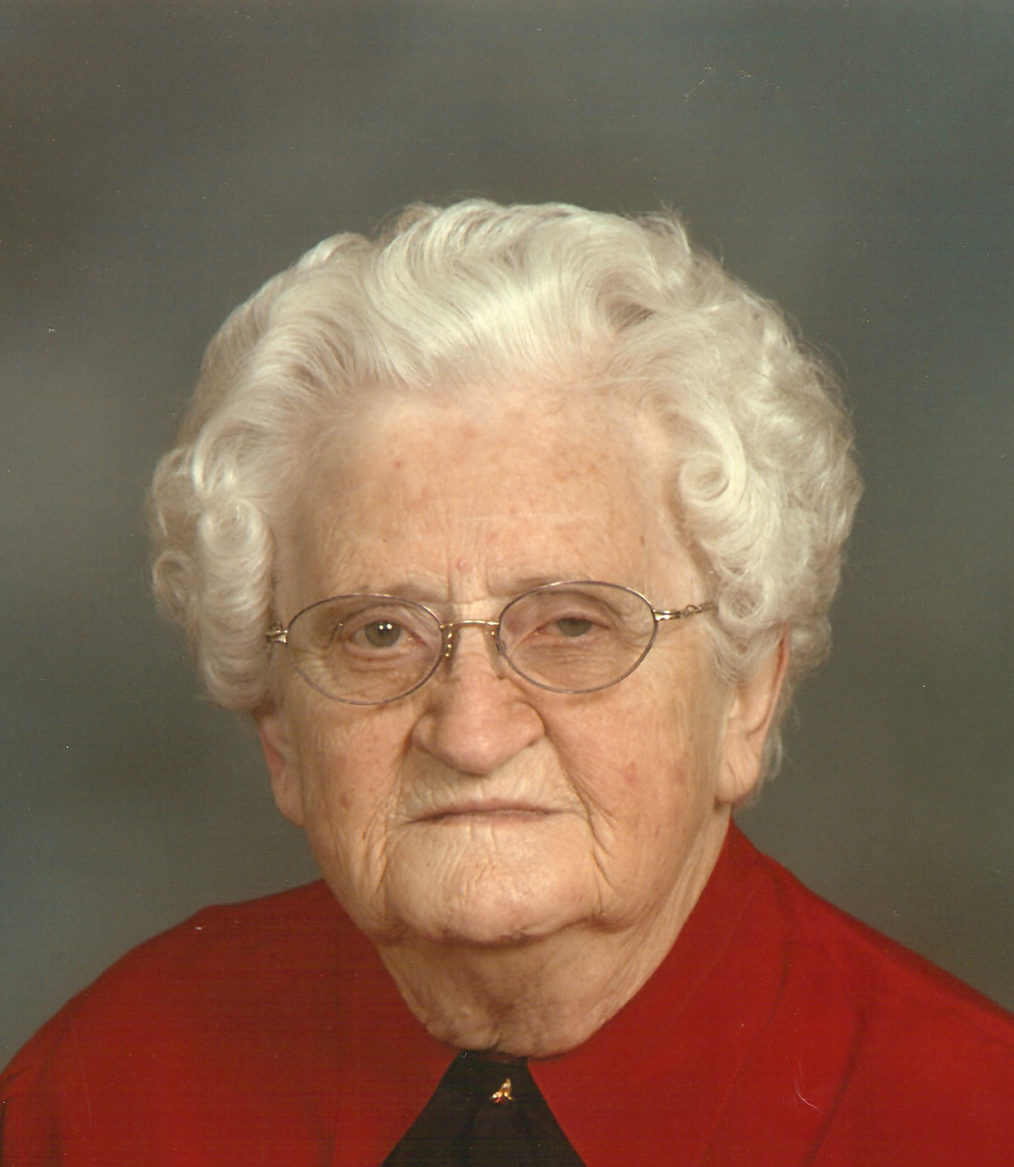 Augusta M. Timmermann
Visitation Dates and Times

Thursday, July 25, 2013 5:00-9:00 PM
Friday, July 26, 2013 8:00-9:15 AM

Visitation Location

Moss Funeral Home, Breese
Service Date

Friday, July 26, 2013

Service Time

10:00 AM

Service Location

St. Mary's Catholic Church, Carlyle, IL
Full Obituary

Augusta M. "Gussie" Timmermann, nee Tebbe, 94, of Carlyle, died Monday, July 22, 2013 at St. Joseph's Hospital in Breese.

Mrs. Timmermann was born May 1, 1919 in St. Rose, IL to John and Catherine (Nordmann) Tebbe; they preceded her in death.

She married Joseph H. Timmermann on November 8, 1944 at St. Rose Catholic Church in St. Rose, IL; he preceded her in death on September 23, 1991.

In addition to her parents and husband, she was also preceded in death by a grandson, Jeff Becker; granddaughters, Tammy Koopmann and Ashley Koopmann; brothers, John Tebbe and Bernard Tebbe; a sister, Catherine Von Hatten; and brothers-in-law and sisters-in-law, Frank Von Hatten, Annie and Bill Jansen, August and Annie Timmermann, Charles and Bertha Timmermann, Henry and Mary Timmermann, Nick Timmermann, Leona and George Richter, Bertha and Leo Ratermann.

Surviving are her children, Pat (Richard) Becker of Bartelso, Clete (Charlotte) Timmermann of Beckemeyer, Joan (Norbert) Koopmann of Bartelso, Joseph A. (Joan) Timmermann of Carlyle, and Bert (Steve) Horstmann of Damiansville; 22 grandchildren, Tina (David) Winkeler, Brenda (Paul) Pollmann, Kurt (Deb) Becker, Dan (Jolene) Becker, Jason (Jaime) Becker, Corey (Holly) Timmermann, Shanna (Eric) Deiters, Pam (Justin) Benhoff, Dustin (Ashley) Timmermann, Karen (Kent) Albers, Lori (Jason) Toennies, Deanna (Corey) Tebbe, Chad (Patti) Timmermann, Dana (Jay) Szczeblewski, Kim (Keith) Richter, Crystal (Alan) Albers, Lauren Timmermann, Britt (Matt) Reisch, Kelly (Phillip) Moss, Jared (Tara) Horstmann, and Cole (Andrea) Horstmann; 52 great-grandchildren and 2 great-great-grandchildren; a sister, Johanna Tebbe of St. Rose; a sister-in-law, Bea Tebbe of St. Rose; and numerous nieces and nephews.

Augusta was a homemaker and she enjoyed playing cards and bingo and she loved to quilt.

She was a member of St. Mary's Catholic Church and Altar Sodality in Carlyle, Catholic Holy Family Society, Clinton County Farm Bureau and was a former member of the Carlyle Knights of Columbus Auxiliary.

Funeral Mass of Christian Burial will be Friday, July 26, 2013 at 10:00 am at St. Mary's Catholic Church in Carlyle, IL with Fr. George Mauck officiating. Interment will follow in St. Mary's Cemetery, Carlyle, IL.

Visitation will be Thursday, July 25, 2013 from 5:00-9:00 PM and again on Friday, July 26, 2013 from 8:00-9:15 am at the Moss Funeral Home in Breese.

Memorials can be made to the donor's choice and will be received at the funeral home.