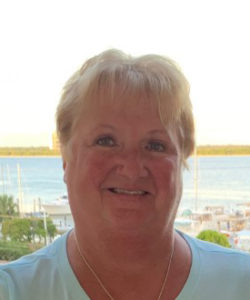 Barb J. Jansen
Visitation Dates and Times

Thursday, December 17, 2020  5:00-8:00 p.m.

COVID-19 restrictions will be followed, masks required, social distancing, and please keep your visit brief

The Funeral Mass of Christian Burial for Barb Jansen will be live streamed at 11:00 a.m. on the St. Cecilia Catholic Church Facebook Page

Visitation Location

Moss Funeral Home, Breese
Service Date

Friday, December 18, 2020 ~ Masks are required at the Funeral Mass and will be limited to 100 people

Service Time

11:00 a.m.

Service Location

St. Cecilia Catholic Church, Bartelso
Full Obituary

Barb J. Jansen, age 63, of Breese, passed away Monday, December 14, 2020 at HSHS St. John's Hospital in Springfield.

She was born June 27, 1957 in Breese, a daughter of the late Rudolph "Rudy" and Josephine "Finnie", nee Mensing, Winkeler.

In addition to her parents, she was preceded in death by a brother, Ronald "Dick" Winkeler; and nephews, Bobby and Kyle Holthaus.

Surviving are her children, Jason (Lacy Toennies) Jansen of Walnut Hill, Amanda (Rick) Loepker of Bartelso, Jeremy Jansen of Breese, and Amber (Ian) Brooke of Breese; grandchildren, Aimee and Sage Jansen, Jalen, Kyren, and Trena Loepker, Kaylee and Camden Brooke and was highly anticipating the birth of her eighth grandchild, baby boy Brooke; siblings, Marcel (Lorraine) Winkeler, Dave "Weeps" (Tina) Winkeler, Kathy "Toots" (Jules) Holthaus, Tom (Dar) Winkeler, and Dan "Sac" (Sue) Winkeler all of Bartelso; sister-in-law, Carolyn Winkeler of Germantown; and numerous nieces and nephews.

Barb retired as the clubhouse manager at Bent Oak Golf Course in Breese in 2016 after 22 years, was very involved with the Clinton County Tavern Association, and enjoyed playing golf in the Bent Oak Ladies Golf League.  Barb never met a stranger, had a love for people and life, and her smile and energy were infectious.  She adored her family, especially her grandchildren, whom she loved to babysit and watch their sporting events.

Funeral Mass of Christian Burial will be Friday, December 18, 2020 at 11:00 a.m. at St. Cecilia Catholic Church in Bartelso with Fr. James Buerster presiding.  (Masks are required at the Funeral Mass and will be limited to 100 people).  Private interment will be at a later date in St. Cecilia Cemetery, Bartelso.

Visitation will be Thursday, December 17, 2020 from 5:00-8:00 p.m. at Moss Funeral Home in Breese. COVID-19 restrictions will be followed, masks required, social distancing, and please keep your visit brief.

In lieu of flowers, plants, and other gifts, memorials may be made to Community Link or the wishes of the family (checks payable to Amanda Loepker) and will be received at the funeral home or by mail, Moss Funeral Home, 535 N. 5th, Breese, IL 62230.