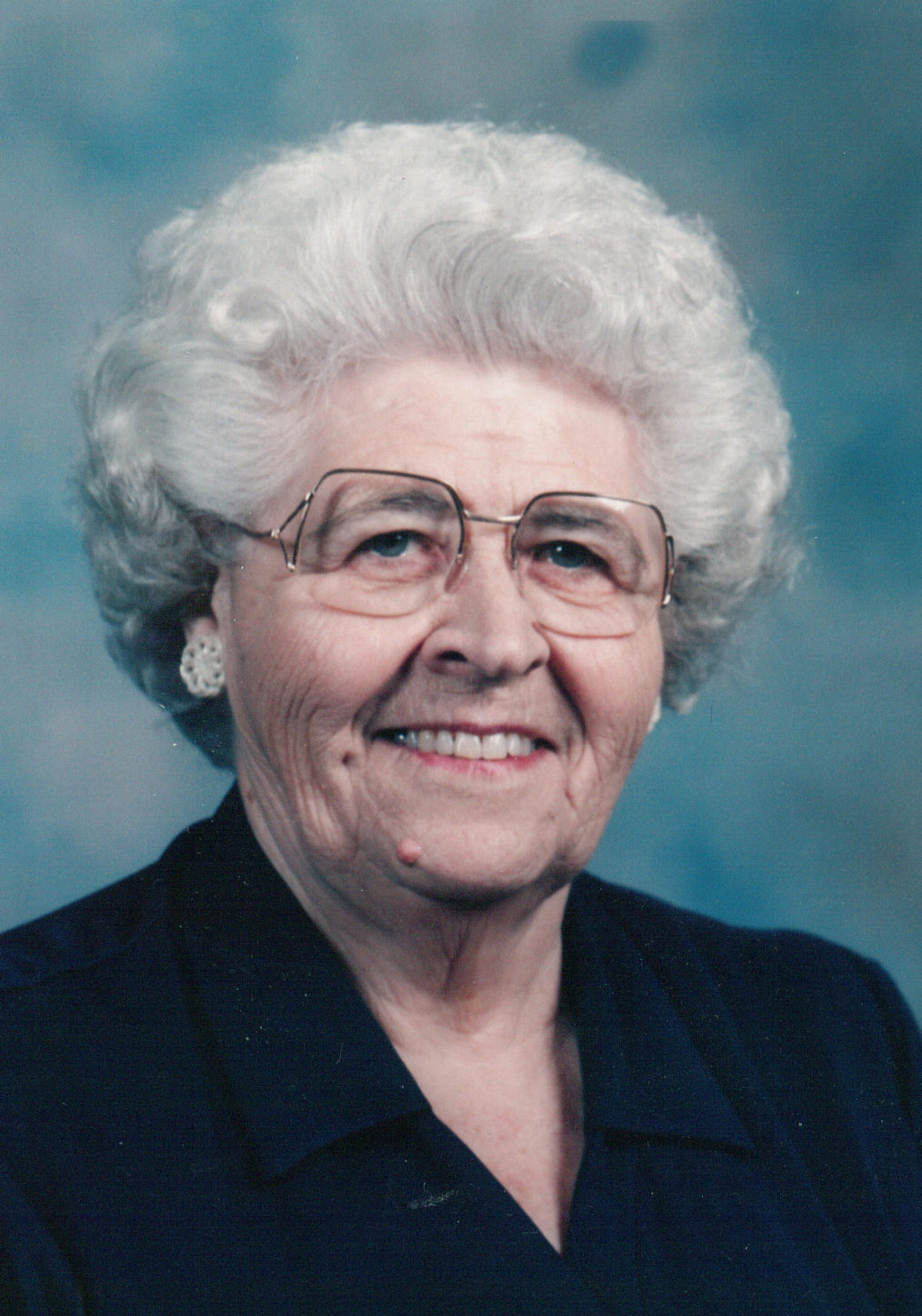 Bernice E. Becker
Visitation Dates and Times

Friday August 16, 4:00 to 8:00 PM
Saturday August 17, 9:00 to 11:00 AM

Visitation Location

Moss Funeral Home, Trenton
Service Date

August 17, 2013

Service Time

11:00 AM

Service Location

Moss Funeral home, Trenton
Full Obituary

Bernice E. Becker, Nee Gelly, 94 of Trenton died Tuesday August 13, 2013 at St. Joseph Hospital in Breese, IL

Bernice attended Faires grade school and most days walked the 2 ½ mile round trip from her parents farm west of St. Morgan. Both before and after her graduation she was needed at her home to help her family with all the family farming chores and related work.

On November 16, 1939 she married Otto E. Becker. They moved into the city of Trenton. Otto passed way in 1980 and Bernice continued to live in Trenton at that time, by herself for another 33 years.

Bernice was a dedicated housewife. She also found time to work at the School Cafeteria at Trenton Elementary school and after 30 years of continuous service there, she retired in 1995.

Bernice believed strongly in the values of honesty, fairness, hard work and being conservative. She enjoyed cooking, sewing, family get togethers and playing bingo.

She was preceded in death by her husband Otto on November 13, 1980, parents Blaine Gelly March 17, 1976 and Elsie (Krost) Gelly February 23, 1989, her brother Melvin Gelly September 20, 1993 and sister-in-law Marjorie Gelly March 5, 2011.

Surviving are her son Ronald L. (Christine) Becker of Trenton, IL, a granddaughter Barbara Ann (Jeral) Szpila of Freeburg, IL grandson Aaron B. Becker of Granite City, IL. 3 great grandchildren Owen T. Szpila, Callie R. Szpila, Aria Q. Szpila all of Freeburg. A sister-in-law Dorothy Cryder of Trenton, IL

Memorials may be made to the Trenton Senior Nutrition Center or Trenton Cemetery Association and will be received through the Moss Funeral Home in Trenton.

Funeral Services will be held on Saturday August 17, 2013 at 11:00 am at the Moss Funeral Home, Trenton with Rev. Gary Kniepkamp officiating. Interment Trenton Cemetery.

Visitation will be held on Friday August 16 from 4 to 8 PM and Saturday August 17 from 9 to 11:00 AM at the Moss Funeral Home in Trenton.