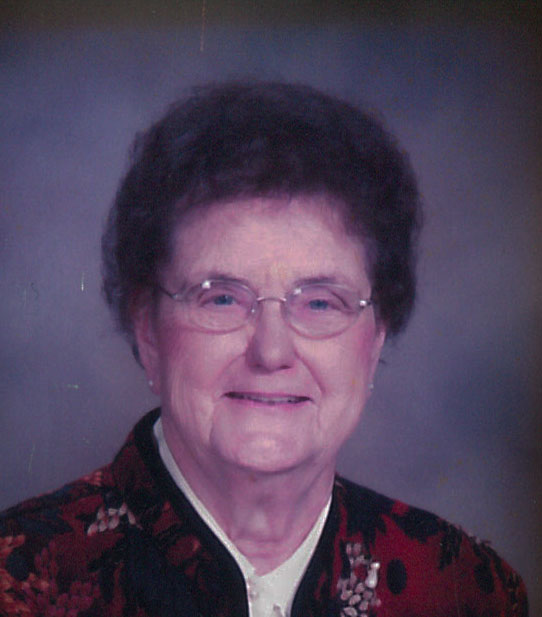 Bernice E. Huelsmann
Visitation Dates and Times

Wednesday, October 4, 2017  4:00-8:00 p.m.

Thursday, October 5, 2017  8:00-9:30 a.m.

Visitation Location

Moss Funeral Home, Trenton
Service Date

Thursday, October 5, 2017

Service Time

10:00 a.m.

Service Location

St. Mary's Catholic Church, Trenton
Full Obituary

Bernice E. Huelsmann, nee Maue, age 90, of Trenton, died Monday, October 2, 2017 at St. Joseph's Hospital in Breese.

Mrs. Huelsmann was born April 26, 1927 in Breese, a daughter of the late Joseph and Sophia, nee Hollenkamp, Maue.

In addition to her parents, she was preceded in death by her husband Vincent Huelsmann whom she married April 26, 1949 at St. Augustine Catholic Church in Breese and he died July 27, 1988; siblings, Ann Langhauser, Eugene Maue, Joseph Maue, Aloys Maue, and Gregory Maue (infant); father-in-law and mother-in-law, Benedict and Cecilia, nee Schrage, Huelsmann; brothers-in-law and sisters-in-law, Eugene Langhauser, Mary Maue, Vera Maue, Ralph Beckmann, Dolores Maue, Julia Maue, Gene and Marcella Huelsmann, Dorothy Huelsmann, Paul Huelsmann, and Marcella Huelsmann; and a grandson-in-law, Heath Shubert.

She is survived by her children, Judy (Jerry) Fromme of Nashville, Laura (Tom) Stookey of Stone Church, Doris (David) Waeltz of Mascoutah, Carol (Kevin) Wiegmann of Trenton, and Vernon (Janice) Huelsmann of Trenton; 17 grandchildren, Jennifer (David) Roesener, Shannon (Jessica) Fromme, Conrad (Debra) Fromme, Lea Shubert, Rob (Melissa) Stookey, Jon (Angie) Stookey, Nicholas (Katie) Waeltz, Jessica (Todd) Newstead, Alex (Lacey) Wiegmann, Lindsey Wiegmann, Kari Wiegmann, Jared (fiancée Kayla Litteken) Huelsmann, Amy (fiancé James Aberts) Huelsmann, Ryan Huelsmann, Brandon Huelsmann, Nicholas Huelsmann, and Bradley Huelsmann; 13 great-grandchildren; siblings, Harold Maue of Damiansville, Irene Maue of Breese, Jeanette Beckmann of Germantown, and Don Maue of Breese; sisters-in-law and brothers-in-law, Mary Ann Maue of Breese, Andrew Huelsmann of Aviston, Clarence (Judy) Huelsmann of St. Rose, and Marcellus (Dolores) Huelsmann of Beckemeyer.

Bernice along with her husband Vincent operated the family farm and she was a homemaker. She was a member of St. Mary's Catholic Church, Altar Sodality, and Kitchen Committee in Trenton, St. Joseph's Hospital Auxiliary, and the Clinton County Farm Bureau. Bernice enjoyed quilting, sewing, reading, traveling, and spending time with her grandchildren.

Funeral Mass of Christian Burial will be Thursday, October 5, 2017 at 10:00 a.m. at St. Mary's Catholic Church in Trenton with Fr. Joseph Rascher presiding. Interment will follow in St. Mary's Cemetery, Trenton.

Visitation will be Wednesday, October 4, 2017 from 4:00-8:00 p.m. and again on Thursday, October 5, 2017 from 8:00-9:30 a.m. at Moss Funeral Home in Trenton.

Memorials may be made to St. Mary's Catholic Church, Mater Dei High School, or to All Saints Academy and will be received at the funeral home.