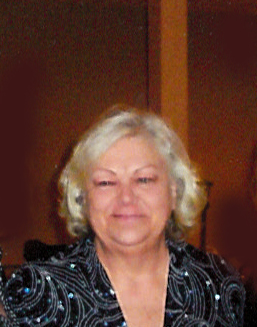 Bette Jo Bray
Visitation Dates and Times

Tuesday January 20, 4:00 to 8:00 PM
~ Trenton VFW Auxiliary Services 7:30 PM ~
Wednesday January 21, 8:00 to 9:45 AM

Visitation Location

Moss Funeral Home, Trenton
Service Date

Wednesday January 21, 2015

Service Time

10:00 AM

Service Location

St. Mary Catholic Church, Trenton
Full Obituary

Bette Jo Bray (Nee Lewis) 65 of Trenton died Sunday January 18, 2015 at St. Elizabeth Hospital in Belleville.

She was born April 3, 1949 in Highland, IL to Cecil and Lucille (Alberternst) Lewis: they preceded her in death.

Also preceded in death by her father-in-law and mother-in-law Paul and Virginia Bray.

She married Harold "Butch" Bray April 27 1970 at St. John United Church of Christ in Trenton and he survives.

Also surviving are her children Kurt (Lisa) Bray, Lisa Rowold, Amy (friend Eric Stelfox) Bray all of Trenton.

4 grandchildren Kelsey and Lauren Bray, Blake and Brooke Rowold

Brothers and sisters Charlotte (Gary) Reymond of Trenton, Gary (Chris) Lewis of Aviston, Joe (Connie) Lewis of Germantown, Janet (John) McDaniel of Albers.

Sisters-in-law Diane (Robert) Schneider, Janice (Keith) Vogt all of Highland.

Bette Jo had worked at the Western Clinton County Senior Services in Trenton as Dietician Manager and previously worked at Faith Countryside Homes in Highland as Dietician Manager. She enjoyed spending time with her children and grandchildren, gardening, flowers and an avid bird watcher.

She was a member of St. Mary Catholic Church in Trenton and the Trenton VFW Auxiliary

Funeral Mass of Christian burial will be Wednesday January 21, 2015 at 10:00 am at St. Mary Catholic Church in Trenton with Fr. Joseph Rascher and Fr. Edward Schaefer officiating. Interment St. Mary Cemetery.

Visitation will be Tuesday January 20, from 4:00 to 8:00 PM and Wednesday January 21, from 8:00 to 9:45 AM at the Moss Funeral Home in Trenton.

Memorials can be made to Trenton Park Boosters or the donor's choice and will be received at the funeral home.

Trenton VFW Auxiliary will hold services Tuesday at 7:30 PM at the funeral home.