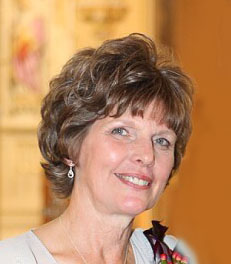 Charlotte D. Timmermann
Visitation Dates and Times

Wednesday, April 4, 2018  4:00-8:00 p.m.

Thursday, April 5, 2018  9:00-10:30 a.m.

Visitation Location

Moss Funeral Home, Breese
Service Date

Thursday, April 5, 2018

Service Time

11:00 a.m.

Service Location

St. Anthony Catholic Church, Beckemeyer
Full Obituary

Charlotte D. Timmermann, age 66, of Beckemeyer, died Sunday, April 1, 2018 at her home.

Mrs. Timmermann was born November 27, 1951 in Breese, a daughter of the late George and Marie, nee Wiese, Hemker.

In addition to her parents, she was preceded in death by her father-in-law and mother-in-law Joseph and Augusta, nee Tebbe, Timmermann.

Surviving are her husband Clete Timmermann of Beckemeyer, who she married May 12, 1973 at St. Cecilia Catholic Church in Bartelso; children, Corey (Holly) Timmermann of Carlyle, Shanna (friend Chris Pollard) Deiters of Damiansville, Pamela (Justin) Benhoff of Carlyle, and Dustin (Ashley) Timmermann of Aviston; grandchildren, Marshall and Sabrina Timmermann, Reece and Gracie Deiters, Alayna, Mariah, and Makenna Benhoff, Easton, Kellen, and Decker Timmermann; siblings, Ron (Kathy) Hemker of Andrews, IN, Dale (Marlene) Hemker of Bartelso, Gerald (Linda) Hemker of Germantown, Pat (Arnie) Steinkamp of Bartelso, and Mary Ellen (Vic) Brown of New Minden; sisters-in-law and brothers-in-law, Pat (Richard) Becker of Bartelso, Joan (Norbert) Koopmann of Bartelso, Joe (Joan) Timmermann of Carlyle, and Bert (Steve) Horstmann of Damiansville; and numerous nieces of nephews.

Charlotte was heavily involved with the family's dairy farm and would attend all of her grandchildren's events. She was a dedicated member of St. Anthony Catholic Church in Beckemeyer where she currently served as the picnic raffle committee chairperson and was also the past president and vice-president of the Ladies Sodality. She was also a member of the Clinton County Farm Bureau, Dairy Farmers of America, and enjoyed attending the Footsie Card Club.

Funeral Mass of Christian Burial will be Thursday, April 5, 2018 at 11:00 a.m. at St. Anthony Catholic Church in Beckemeyer with Fr. George Mauck presiding. Interment will follow in St. Anthony Cemetery, Beckemeyer.

Visitation will be Wednesday, April 4, 2018 from 4:00-8:00 p.m. and again on Thursday, April 5, 2018 from 9:00-10:30 a.m. at Moss Funeral Home in Breese.

In lieu of flowers and gifts, memorials may be made to Damiansville Elementary, All Saints Academy, Breese-Beckemeyer District 12, or Aviston Elementary and will be received at the funeral home.