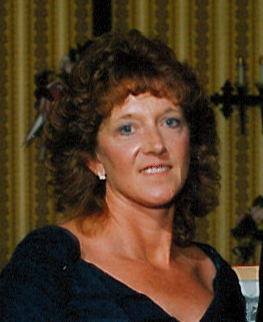 Carla Davis-Maroon
Visitation Dates and Times

Friday May 8, 4:00 to 7:00 PM

Visitation Location

Moss Funeral Home, Trenton
Full Obituary

Carla J. Davis-Maroon 56 of Hoffman and formerly of Trenton died Friday May 1, 2015 at Good Samaritan Hospital in Mt. Vernon

She was born August 20, 1958 in Highland to Betty (Bopp) Davis-Martin and the late Allan Davis. Her mother survives in Trenton.

She married Roger "Whitey" Maroon August 20, 2004 in Carlyle and he survives in Hoffman.

She was preceded in death by her father, brothers Larry Davis, Jimmy Davis and a sister Connie Wade and step-father David Martin.

Also surviving are her children Brad (Kate) Jansen of Madison NJ, Alicia Jansen of San Francisco, CA

A grandson Cooper Jansen

Brothers Jerry (Cindy) Davis, Brian (Julie) Davis all of Trenton.

Carla was a cook at Bryan Manor in Centralia. She loved to cook and had a special love for her dogs.

Memorial Visitation will be Friday May 8, 2015 from 4:00 to 7:00 PM at the Moss Funeral Home in Trenton.

Memorials can be made to her family and will be received at Moss Funeral Home.