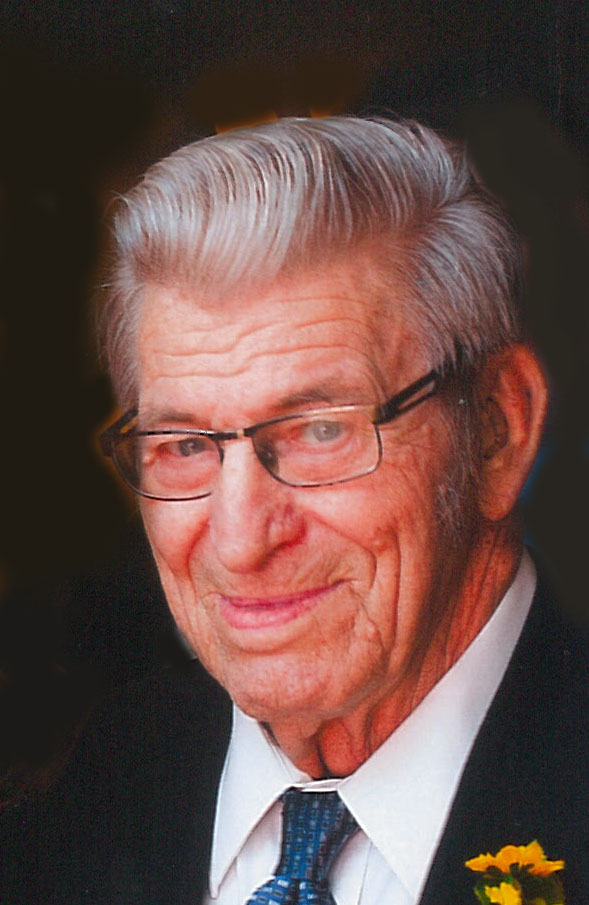 Cletus C. Koerkenmeier
Visitation Dates and Times

Sunday, April 9, 2017 3:00-7:00 p.m.
Moss Funeral Home, Breese
Monday, April 10, 2017 8:30-9:30 a.m.
St. Paul's Catholic Church, Highland
Service Date

Monday, April 10, 2017

Service Time

10:00 a.m.

Service Location

St. Paul's Catholic Church, Highland
Full Obituary

Cletus C. Koerkenmeier, age 86 of Highland, born April 25, 1930 in Aviston, a son of the late Frank and Anna, nee Jansen, Koerkenmeier, died Tuesday, April 4, 2017 at St. Joseph's Hospital in Highland.

In addition to his parents, he was also preceded in death by his wife Catherine, nee Klostermann, Koerkenmeier, whom he married August 11, 1954 at St. Rose Catholic Church and she died September 26, 2012; his siblings, Clara Elling, Rose Lauberth, Viola Stine, Leona Boien, Edgar Koerkenmeier, Victor Koerkenmeier, Arnold Koerkenmeier, and Joseph Koerkenmeier; his father-in-law and mother-in-law, Joseph and Frances, nee Heimann, Klostermann; and brothers-in-law and sisters-in-law, Fred Olliges, Ted Elling, Clem Lauberth, Ken Stine, Jack Boien, Alice Koerkenmeier, Robert Klostermann, Dolores "Tudy" and Burnell Weinheimer, Tom Richter and Tom Burk.

Surviving are his children, David (Judy) Koerkenmeier of Greenville, Susan (Mike) Gillespie of Antioch, Donna (Darwin) Meskil of Highland, Nancy (Greg) Rehkemper of St. Rose, Carol (Steve) Smith of Highland, Cindy (Jeff) Gray of Greenville, and Tammy (Rich) Bakos of Upper Montclair, NJ; 18 grandchildren, Heather (Bill) Edwards, Michelle (Bryan) Self, Jennifer (fiancé Jason Williams) Gillespie, Michael (Michelle) Gillespie, Christopher (Briana) Gillespie, Darla (Shawn) Rose, Derek (Karla) Meskil, Kyle (Katie) Rehkemper, Brent Rehkemper, Keith Rehkemper, Tyler (Stephanie) Smith, Matthew (friend Debasmita De) Smith, Kayla (Allen) Tompkins, Whitney Gray, Hunter Gray, Marcella Bakos, Alex Bakos, and Evan Bakos; 12 great-grandchildren; a sister, Ann Olliges of Breese; sisters-in-law and brothers-in-law, Thelma Shrader of Aviston, Joann Koerkenmeier of Trenton, Pat Koerkenmeier of Trenton, Vincent Klostermann of Greenville, Marge Richter of Aviston, Joseph (Becky) Klostermann of Breese, Edith (Karl) Gerhard of Little Rock, AR, Helen Klostermann of Breese, and LeAnn Klostermann of Breese; and numerous nieces and nephews.

Cletus was a veteran of the United States Army serving from 1952-1953 and was a Purple Heart recipient from injuries he sustained during the Korean War. He retired in 1991 from Cerro Copper & Brass in Sauget where he was a Mill Wright and the Head of Maintenance. After retiring, he became a self-employed landlord of numerous rental properties. He was a member of St. Paul's Catholic Church in Highland, Highland VFW Post 5694, Highland American Legion Post 0439, JOY (Just Older Youth) Singers in Highland, Mississippi Valley Barber Shop Chorus, was a participant in the Memory Aging Project at Washington University, and was a former member of the Highland Saddle Club and the Highland Jaycees. His true love was singing and at the age of 80 participated in a play with the Clinton County Showcase.

Funeral Mass of Christian Burial will be Monday, April 10, 2017 at 10:00 a.m. at St. Paul's Catholic Church in Highland with Fr. Pat Jakel and Fr. Ed Schaefer presiding. Interment with full military honors will follow in St. Joseph's Cemetery, Highland.

Visitation will be Sunday, April 9, 2017 from 3:00-7:00 p.m. at Moss Funeral Home in Breese and again on Monday, April 10, 2017 from 8:30-9:30 a.m. at St. Paul's Catholic Church in Highland.

Memorials may be made to the Memory Aging Project at Washington University, St. Paul's Catholic Church, or to the Alzheimer's Association and will be received at the funeral home and also at the church.