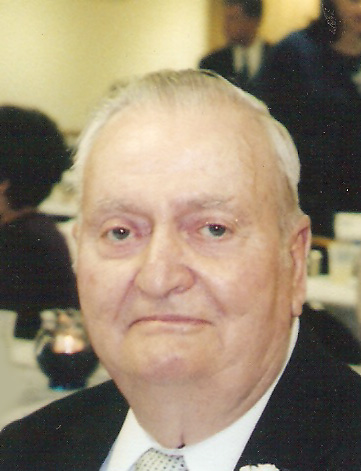 Cyril J. Poettker
Visitation Dates and Times

Tuesday, January 28, 2014 4:00-8:00 pm
Wednesday, January 29, 2014 8:00-9:45 am

Visitation Location

Moss Funeral Home, Breese
Service Date

Wednesday, January 29, 2014

Service Time

10:00 am

Service Location

St. Dominic Catholic Church, Breese
Full Obituary

Cyril J Poettker, 88, of Breese died Saturday January 25, 2014 at Breese Nursing Home

He was born July 1, 1925 in Aviston to Herman and Mary (Strieker) Poettker: they preceded him in death.

He married Dolores Holtmann on July 18, 1950 at St. Bernard Church in Albers and she preceded him in death April 1, 2013.

Also preceded in death by brothers, Joseph Poettker and Cletus Poettker; a sister, Sr. Doris Poettker, HSSF; brothers-in-law and sisters-in-law, Alvera Poettker, Ralph Netemeyer, Raymond Holtmann, Loretta and Calvin Schwend, Bill Spaeth, Ronald Huegen, Alice Toennies, and Clarence and Isabelle Holtmann.

Surviving are his children, Shirley (Leon) Langenhorst of St. Rose, Doris (Brandon) Phillips of Centralia, Ken (Terri) Poettker of Centralia, Sharon (Michael) Bacca of Orlando, FL, Deb Lake of Breese, Jerry (Laura) Poettker of St. Charles, MO, Dennis (friend Sandy Munro) Poettker of Mascoutah, and Lori Hankins of Breese; 15 grandchildren and 5 great-grandchildren; sisters, Dolores Netemeyer of Albers and Marie (Clarence) Plocher of Highland; brothers-in-law and sisters-in-law, David (Dot) Holtmann of New Baden, Adrian (Trudy) Toennies of Trenton, Mary Ann Spaeth of Trenton, Ruth Huegen of Trenton, and Adeline Holtmann of Germantown.

He was a Veteran of the United States Army, and at the beginning of his service he was in Company L 318 infantry A.P.O. #80 through November of 1945. Once he was in Nuremberg, he stood guard at the Nuremburg Trials while he was in Company L 26th infantry A.P.O #1 from December 1945-March 1946. Towards the end of his time in the war, he was in 144th Armored Signal Co. from March 1946-April 1946.

Cyril retired from Scott Air Force Base as a Medical Technician and he was also a dairy, grain and live stock farmer.

He was a member of St. Dominic Catholic Church in Breese and Albers American Legion Post 1026.

Funeral Mass of Christian Burial will be Wednesday, January 29, 2014 at 10:00 am at St. Dominic Catholic Church in Breese with Fr. Patrick Peter officiating. Interment will follow in St. Dominic/St. Augustine Cemetery, Breese.

Visitation will be Tuesday, January 28, 2014 from 4:00-8:00 pm and again on Wednesday, January 29, 2014 from 8:00-9:45 am at the Moss Funeral Home in Breese.

Memorials can be made to the donor's choice and will be received at the funeral home.