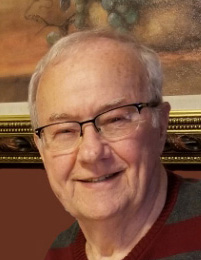 Daniel D. Huelsmann
Visitation Dates and Times

Tuesday, September 3, 2019, 4:00 p.m. to 8:00 p.m.

Wednesday, September 4, 2019, 9:00 a.m. to 10:30 a.m.

Visitation Location

Moss Funeral Home, Breese
Service Date

Wednesday, September 4, 2019

Service Time

11:00 a.m.

Service Location

St. Augustine Catholic Church
Full Obituary

Daniel D. Huelsmann, age 76, of Breese, passed away Friday, August 30, 2019, at Breese Nursing Home.

He was born November 13, 1942, in Breese, a son of the late Joseph and Laura, nee Holtgrave, Huelsmann.

In addition to his parents, he was preceded in death by his brother Ralph Huelsmann; sister Pat Guest; father-in-law and mother-in-law, Vic and Agnes, nee Voss, Von Hatten; sisters-in-law and brothers-in-law Helen Huelsmann, Wally Guest, Irene Huelsmann, Al Mourlam, Carol and Lester Trame, Victor Von Hatten, and Donald Deiters; and step-mother-in-law, Johanna Renschen.

Surviving are his wife Jeanette, nee Von Hatten, Huelsmann of Breese, whom he married April 25, 1964 at St. Francis of Assisi Catholic Church in Aviston; sons, Stephen Huelsmann of Breese, Richard "Rick" (Jennifer) Huelsmann of Belleville, Brian Huelsmann of Breese, Russell (Lynn) Huelsmann of Damiansville, and Kurt (Julia) Huelsmann of Aviston; grandchildren, Kathryn (Richard) Rosales, Sarah Huelsmann, Grant Knebel, Grace Huelsmann, and Lila Huelsmann; step-grandchildren, Kyleigh and Kellen Vonborries; siblings Andrew (friend Julie) Huelsmann, Marcella (Tony) Timmermann, and Aurelia "Rite" Mourlam all of Breese; and sisters-in-law and brothers-in-law Marilyn Von Hatten of New Baden, Tom (friend Kathy) Von Hatten of Utah, Barbara (Aloys "Turk") Kuper of Aviston, Franny (Larry) Goebel of St. Rose, Donald (Faye) Von Hatten of Trenton, Margie Deiters of Trenton, Jean (Paul) Steinman of Breese, Patty (Bill) Warfield of Marine, and Shirley Von Hatten of Highland.

Dan retired from General Motors in Wentzville, MO, and was a member of St. Augustine Catholic Church and Men's Sodality in Breese, Breese Knights of Columbus Council 2869, and a former member of the United Auto Workers Union. He enjoyed playing cards, especially poker; classic and model cars; and, most of all, spending time with his grandchildren.

Funeral Mass of Christian Burial will be Wednesday, September 4, 2019, at 11:00 a.m. at St. Augustine Catholic Church in Breese with Fr. Chuck Tuttle presiding. Interment will be at a later date in St. Dominic-St. Augustine Cemetery, Breese.

Visitation will be Tuesday, September 3, 2019, from 4:00-8:00 p.m. and again on Wednesday, September 4, 2019 from 9:00-10:30 a.m. at Moss Funeral Home in Breese.

Memorials may be made to Clinton County Relay for Life or St. Augustine Catholic Church and will be received at the funeral home.

The Breese Knights of Columbus will hold services at 7:00 p.m. Tuesday evening at the funeral home.