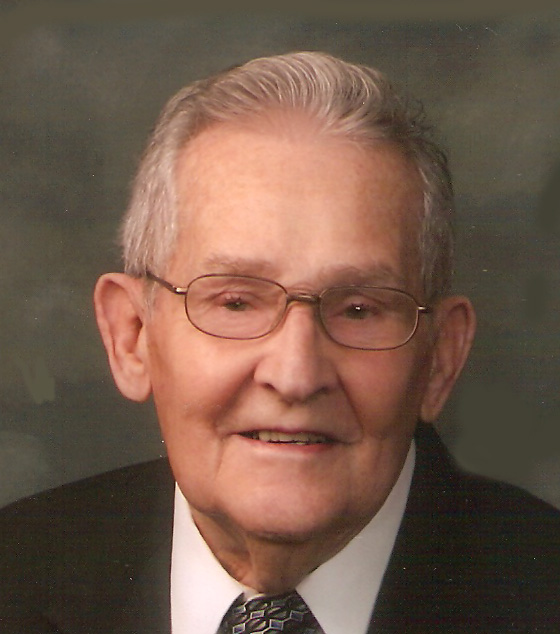 Daniel M. Kennett
Visitation Dates and Times

Thursday, October 9, 2014 5:00-8:00 p.m.
Friday, October 10, 2014 8:00-9:15 a.m.

Visitation Location

Moss Funeral Home, Trenton
Service Date

Friday, October 10, 2014

Service Time

10:00 a.m.

Service Location

St. Bernard's Catholic Church, Albers
Full Obituary

Daniel M. Kennett, 94, of Albers, died Monday, October 6, 2014 at St. Joseph's Hospital in Breese.

Mr. Kennett was born January 21, 1920 in New Baden to Franklin and Caroline (Monken) Kennett; they preceded him in death.

He married Viola Kohrs on November 12, 1947 at St. Dominic Catholic Church in Breese; she preceded him in death on October 1, 2011.

In addition to his parents and wife, he was also preceded in death by daughter-in-law, Christian Kennett; brothers, Charles Kennett and Franklin Kennett; sisters, Virginia Logsdon, Margaret LaCaze, and Eileen Kennett; a sister-in-law, Adele Kennett; and brothers-in-law, Victor Mueller, Charles Lawler, John Logsdon and Woodrow LaCaze.

Surviving are his children, Marge (Rich) Litteken of Trenton, Colleen (Dan) Richter of Shiloh, Mary (Tony) Rakers of Trenton, Tony (Sherry) Kennett of Pocahontas, Jim Kennett of Highland, and Angie (Ken) Reuter of Hoffmann; 15 grandchildren, Lisa (Brent) Brede, Lance (Connie) Litteken, Scott (Erin) Richter, Tim (Jill) Richter, Aaron (Megan) Rakers, Renee (Shawn) Pace, Ashley (friend Byron Lewis) Rakers, Alicia (Matt) Haas, Melissa (Patrick) Jackson, Tara (Eric) Meade, Darin (Erica) Kennett, Camilia (Brandon) Schawel, Jase Kennett, Bryn Reuter, and Hannah Reuter; 21 great-grandchildren, Nate and Chloe Brede, Aly Litteken, Matthew and Aaron Richter, Ashlyn and Ryan Rakers, Megan , Morgan, and Hollis Pace, Mehki Smith, Carter Lewis, Ava Dickenson, Caden Jackson, Ellie, Brady, Camden, and Annie Meade, Leah, Averie, and Brooke Kennett; a sister, Eleanor Mueller of Albers, and sisters-in-law and a brother-in-law, Virginia Kennett of New Baden, Mary Lawler of Carlyle, and Frances (Dick) Koehler of Carlyle.

Daniel retired from the Base Supply at Scott Air Force Base, formerly worked at the Germantown IGA, and he was a Veteran of the United States Air Force. He enjoyed gardening, woodworking, and helping others.

He was a member of St. Bernard's Catholic Church and Men's Sodality and the Albers American Legion Post 1026.

Funeral Mass of Christian Burial will be Friday, October 10, 2014 at 10:00 a.m. at St. Bernard's Catholic Church in Albers with Fr. Jack Joyce and Deacon Glen Netemeyer officiating. Interment will be in St. Bernard's Cemetery, Albers.

Visitation will be Thursday, October 9, 2014 from 5:00-8:00 p.m. and again on Friday, October 10, 2014 from 8:00-9:15 a.m. at the Moss Funeral Home in Trenton.

Memorials can be made to the Albers American Legion Post 1026, St. Joseph's Hospital Lights for Scholarship Program, St. Bernard's Church or to Adapt for Autism and will be received at the funeral home.