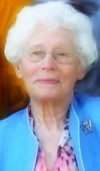 Dorinda A. "Rinks" Bingham
Visitation Dates and Times

Wednesday, July 25, 2012 11:00 AM-12:45 PM

Visitation Location

Moss Funeral Home, Breese
Service Date

Service Time

Service Location

St. Dominic Catholic Church Breese
Full Obituary

Dorinda A. "Rinks" Bingham, nee Johnson, 88, of Breese, entered into rest on Saturday, July 21, 2012 at her residence.

Mrs. Bingham was born October 21, 1923 in Breese to Edward and Margaret (Deien) Johnson; they preceded her in death.

She married Julian Bingham on October 11, 1944 at St. Dominic Catholic Church in Breese; he preceded her in death on September 11, 1993.

In addition to her parents and husband, she was also preceded in death by an infant grandson, Joseph Evans; brothers, Elmer Johnson, Henry Johnson, Herman Johnson, Arthur Johnson and wife Viola, and Vernon Johnson and wife Kitty; and sisters, Lillian Marian and husband George, Antoinette McLaughlin and husband John, and Blanche Riess and husband Glen.

Surviving are her children, John (Jane) Bingham of Breese, Julia (Jeff) Ridder of Winter Springs, FL, and David (Terrie) Bingham of Carlyle; 3 grandchildren, Jill (Darius) Johnson, Joel (Deborah) Bingham, and Timothy (Hope) Bruns; 3 great-grandchildren, Brandon and Karlei Bingham and Mollie Johnson; step-grandchildren and numerous nieces and nephews.

Dorinda was a homemaker and a member of St. Dominic Catholic Church in Breese.

Funeral Mass of Christian Burial will be Wednesday, July 25, 2012 at 1:00 PM at St. Dominic Church in Breese with Fr. Chuck Tuttle officiating. Interment will follow in St. Dominic/St. Augustine Cemetery, Breese.

Visitation will be Wednesday, July 25, 2012 from 11:00 AM-12:45 PM at the Moss Funeral Home in Breese.

Memorials can be made to Hospice of Southern Illinois and will be received at the funeral home.