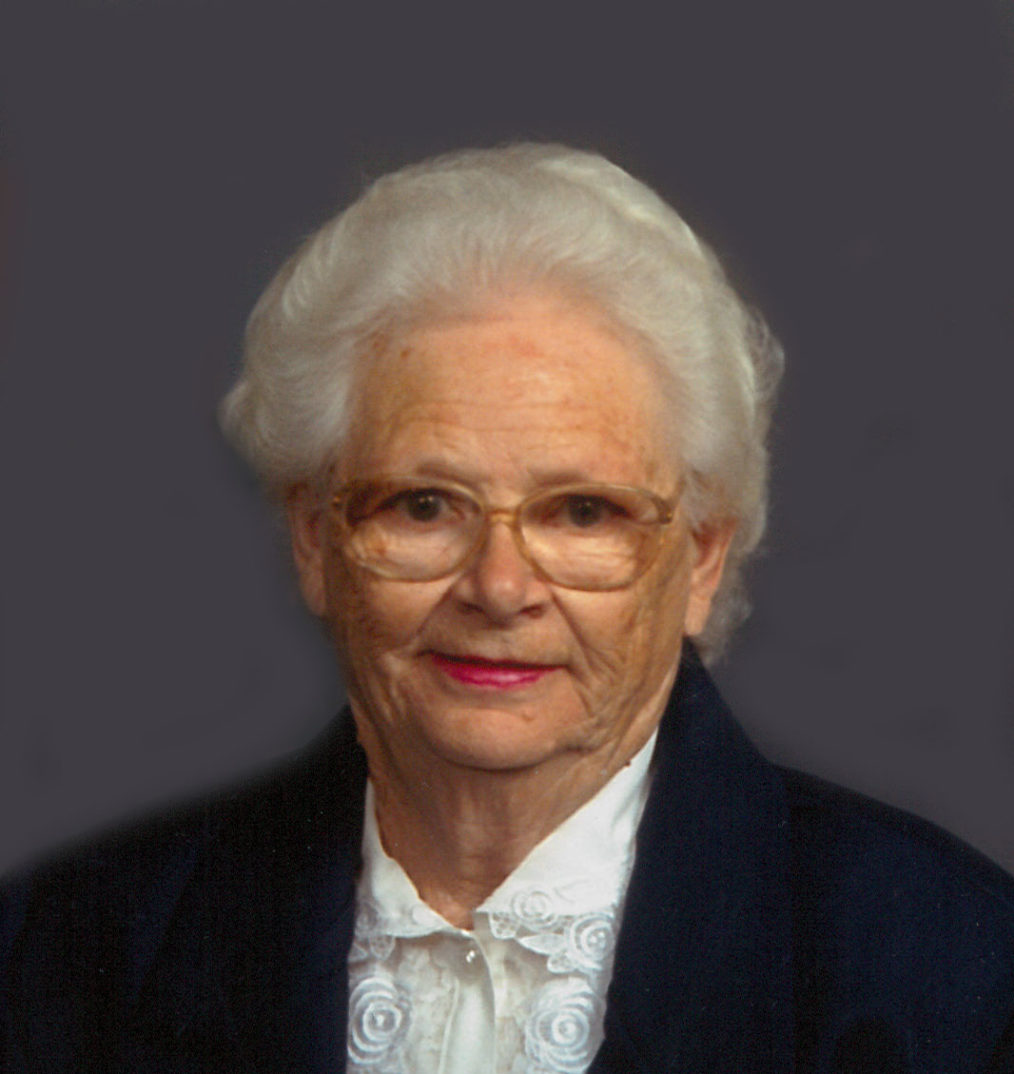 Edelin Ann Griesbaum
Visitation Dates and Times

Wednesday, January 18, 2017 5:00-8:00 p.m.
Thursday, January 19, 2017 10:00-11:00 a.m.

Visitation Location

Moss Funeral Home, Trenton
Service Date

Thursday, January 19, 2017

Service Time

11:00 a.m.

Service Location

Moss Funeral Home, Trenton
Full Obituary

Edelin Ann Griesbaum, nee Kahrhoff, age 94 of New Baden, born December 2, 1922 in Germantown, a daughter of the late George and Annie, nee Thoele, Kahrhoff, died Saturday, January 14, 2017 at her home.

In addition to her parents, she was also preceded in death by her husband Clarence G. Griesbaum, whom she married August 14, 1943 at Zion United Church of Christ in New Baden and he died December 8, 1992; a son, Leroy Griesbaum; siblings, August Kahrhoff and wife Alma, Raymond Kahrhoff and wife Rose, Andrew Kahrhoff, Mary Ann Stitzel and husband Wilbur, and Catherine "Katie" Denton and husband Joe; and sisters-in-law and brothers-in-law, Edna Grimmer and husband Frank and Joseph Griesbaum and wife Jeanne.

Surviving are her children, Judy (Henry "Boots") Kreke of New Baden, Gary Griesbaum of Belleville, Dennis (Terry) Griesbaum of Trenton, Brenda (Kevin) Hoerchler of Mascoutah, and Dale (Tami) Griesbaum of New Baden; a daughter-in-law, Maria Griesbaum of New Baden; 10 grandchildren, Lisa (Jon) Gunn, Robert (Chrissy Fox) Kreke, Gary (Robin) Griesbaum, James Griesbaum, Kristy (Brandon Buescher) Griesbaum, Michelle (Rich) Rohe, Jamie (George) Timmermann, Brittany (Daniel LaGrange) Hoerchler, Ashley (Andy) Linder, and Bradley Griesbaum; and 12 great-grandchildren.

Edelin formerly worked at the Trenton Welch's Buggy Factory and the Germantown Egg Plant. Mrs. Griesbaum was a member of Zion United Church of Christ, quilting club, and women's guild in New Baden. She enjoyed quilting, fishing, playing cards, cooking, gardening, canning, but most of all spending time with her grandchildren.

Memorial Service will be Thursday, January 19, 2017 at 11:00 a.m. at the Moss Funeral Home in Trenton with Rev. Michael Rucker officiating. Interment will follow in Greenmount Cemetery in New Baden.
Visitation will be Wednesday, January 18, 2017 from 5:00-8:00 p.m. and again on Thursday, January 19, 2017 from 10:00-11:00 a.m. at the Moss Funeral Home in Trenton.

Memorials may be made to the Wishes of the Family and will be received at the Moss Funeral Home, 105 S. Main, Trenton, IL 62293.