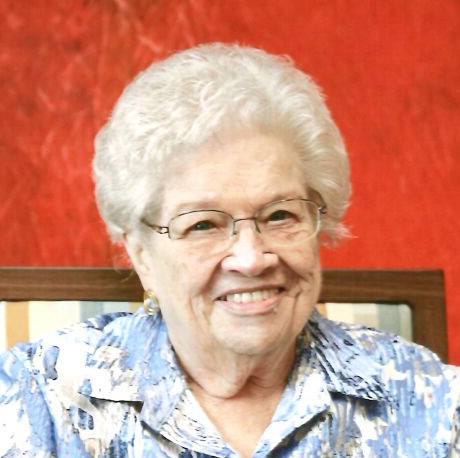 Eloise R. Seger
Visitation Dates and Times

Thursday, September 5, 2019  5:00-8:00 p.m.

Friday, September 6, 2019  8:30-9:30 a.m.

Visitation Location

Moss Funeral Home, Trenton
Service Date

Friday, September 6, 2019

Service Time

10:00 a.m.

Service Location

St. Mary's Catholic Church, Trenton
Full Obituary

Eloise R. Seger, age 91, of Trenton, passed away Monday, September 2, 2019 at Trenton Village.

She was born May 2, 1928 in Aviston, a daughter of the late Henry and Christine, nee Markus, Welling.

In addition to her parents, she was preceded in death by her husband Donald Seger, whom she married June 10, 1953 at St. Mary's Catholic Church in Trenton and who died May 7, 1990; siblings, Louis Welling, Sr. Leandra Welling, PHJC, and Vera Vaninger; father-in-law and mother-in-law, Adolph and Bernice, nee Poos, Seger; and sisters-in-law and brothers-in-law, Grace Welling, Dolph Seger, Dean and Eileen Seger, Dwain and Janet Seger, and Bernard Brueggemann.

Surviving are her daughters, Donna Humphrey of Trenton, Diane (Randy) Erwin of Highland, and Dana (Rob) Haag of Trenton; grandchildren, Megan (Kevin) Donjon, Emily Humphrey, Nick Erwin, Connor Erwin, Kylie Erwin, Blake Haag, Abigail Haag, and Cameron Haag; great-grandchildren, Hayden, Harper, and Keegan Donjon; sister, Ann (James) Bolk of Carlyle; and brother-in-law and sisters-in-law, Jerry Vaninger of Trenton, Janice Brueggemann of Trenton, and Clarene Willmann of Highland.

Eloise was a homemaker and a member of St. Mary's Catholic Church and Altar Sodality in Trenton, and a former member of the Clinton County Homemakers Extension. She enjoyed sewing, embroidery, baking, and most of all spending time with her grandchildren and great-grandchildren.

Funeral Mass of Christian Burial will be Friday, September 6, 2019 at 10:00 a.m. at St. Mary's Catholic Church in Trenton with Fr. James Buerster and Fr. Joseph Rascher presiding. Interment will follow in St. Mary's Cemetery, Trenton.

Visitation will be Thursday, September 5, 2019 from 5:00-8:00 p.m. and again on Friday, September 6, 2019 from 8:30-9:30 a.m. at Moss Funeral Home in Trenton.

In lieu of flowers, plants, and other gifts, memorials may be made to St. Mary's Catholic Church or the Alzheimer's Association and will be received at the funeral home.