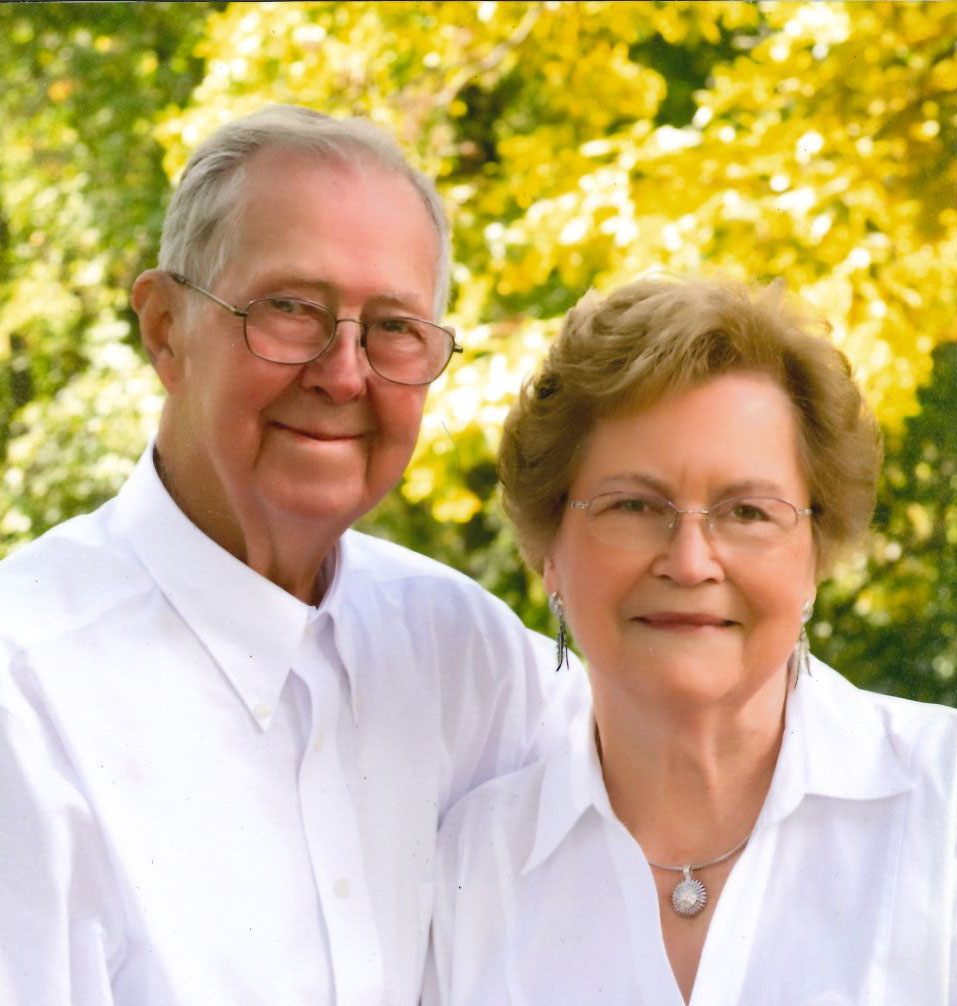 Larry A. and Vera C. Tonnies
Visitation Dates and Times

Friday, January 25, 2019 4:00-8:00 p.m.
Saturday, January 26, 2019 8:30-9:30 a.m.

Visitation Location

Moss Funeral Home, Trenton
Service Date

Saturday, January 26, 2019

Service Time

10:00 a.m.

Service Location

St. Mary's Catholic Church, Trenton
Full Obituary

Vera C. Tonnies, nee Venhaus, age 92, of Trenton, passed away Monday, January 21, 2019 at Faith Care Center in Highland and early in the morning on Tuesday, January 22, 2019 her husband Larry Tonnies, age 99, passed away at Aviston Countryside Manor.

Mrs. Tonnies was born July 24, 1926 in Aviston, a daughter of the late Bernard "Ben" and Catherine, nee Dall, Venhaus. Mr. Tonnies was born July 30, 1919 in New Baden, a son of the late William and Elizabeth, nee Rensing, Tonnies. They were married October 27, 1948 at St. Francis Catholic Church in Aviston.

Vera and Larry are survived by their children, Jim (Leslie) Tonnies of Reading, MI, Glenn (Tiffani) Tonnies of Freeburg, Lois (Jack) Garcia of Breese, Susan (Tom) Manville of Highland, and Jan (David) Warnecke of Caseyville; grandchildren, Sara (Ben) Horton, Rob (Carolynn) Tonnies, Brad Tonnies, Matt (Amber) Tonnies, Shane Tonnies, Jordan Werner, Bill (Stephanie) Garcia, Amy (partner Jennifer Jakel) Garcia, Craig (Amber) Manville, Tim (Ashley) Manville, Blake (Maria) Manville, Katy (Mike) Babinski, and Joe (fiancée Jasmine Carpenter) Warnecke; great-grandchildren, Clare and Jimmy Horton, Coden Haley, Braxton Werner, Ava and Isabel Garcia, Liam and Jackson Jakel, Camden and Brynlee Manville, Emery and Landon Manville, and Andrew Babinski; Vera's brother, Ben (Rosemary) Venhaus, Jr. of Aviston; and Larry's siblings, Elvera Trame of Bartelso, Loraine (Butch) Koopmann of Belleville, and Marilyn Mueller of Belleville.

In addition to their parents, they were preceded in death by Vera's siblings, Edward Venhaus, Lawrence "Pep" Venhaus and his wife Blanche, Ludwig Venhaus, Elmer "Bud" Venhaus and his wife Marie, Marcella Venhaus, Frieda Kohlbrecher and her husband Joseph, Florence "Toots" Holtgrave and her husband Cletus, Alma "Sis" Rohling and her husband Edmund, and Esther "Essie" Kues and her husband Orville; Larry's siblings, Eleanor Wiegmann and her husband Al, Norbert Tonnies, Cletus Tonnies, and Dolores Hooker and her husband Phil; and a brother-in-law, Pete Trame.

Vera retired after 30+ years working as a dry-cleaning press operator at Jim's Formal Wear in Trenton, and Larry was a veteran of the United States Army Air Force serving as a Flight Gunner during WWII and later retired as the parts manager for Auffenberg Ford in Belleville. They were both members of St. Mary's Catholic Church in Trenton where Vera was involved with the Altar Sodality, preparing funeral luncheons and card parties and Larry was an usher for numerous years. In addition to being a member of the church, Vera was a charter and life-member of the Trenton VFW Post 7983 Auxiliary and Larry was a life-member and most senior member of both the Trenton Knights of Columbus Council 2932 and Knights of Columbus Fourth Degree Bishop Althoff Assembly, Trenton VFW Post 7983, and Teamsters Local 50-Belleville. They both enjoyed camping, boating, and fishing, playing euchre, but most of all spending time with their family, especially the grandchildren.

Funeral Mass of Christian Burial for both Vera and Larry will be celebrated Saturday, January 26, 2019 at 10:00 a.m. at St. Mary's Catholic Church in Trenton with Fr. Joseph Rascher presiding. Interments will follow in St. Mary Cemetery, Trenton.

Visitation will be Friday, January 25, 2019 from 4:00-8:00 p.m. and again on Saturday, January 26, 2019 from 8:30-9:30 a.m. at Moss Funeral Home in Trenton.

In lieu of flowers, plants and gifts, memorials may be made to St. Mary's Church Altar Sodality or Hospice of Southern Illinois and will be received at the funeral home.

The Trenton VFW Auxiliary will hold services at 7:00 p.m. followed by the Trenton VFW, Trenton Knights of Columbus, and the Fourth Degree Bishop Althoff Assembly Friday evening at the funeral home.