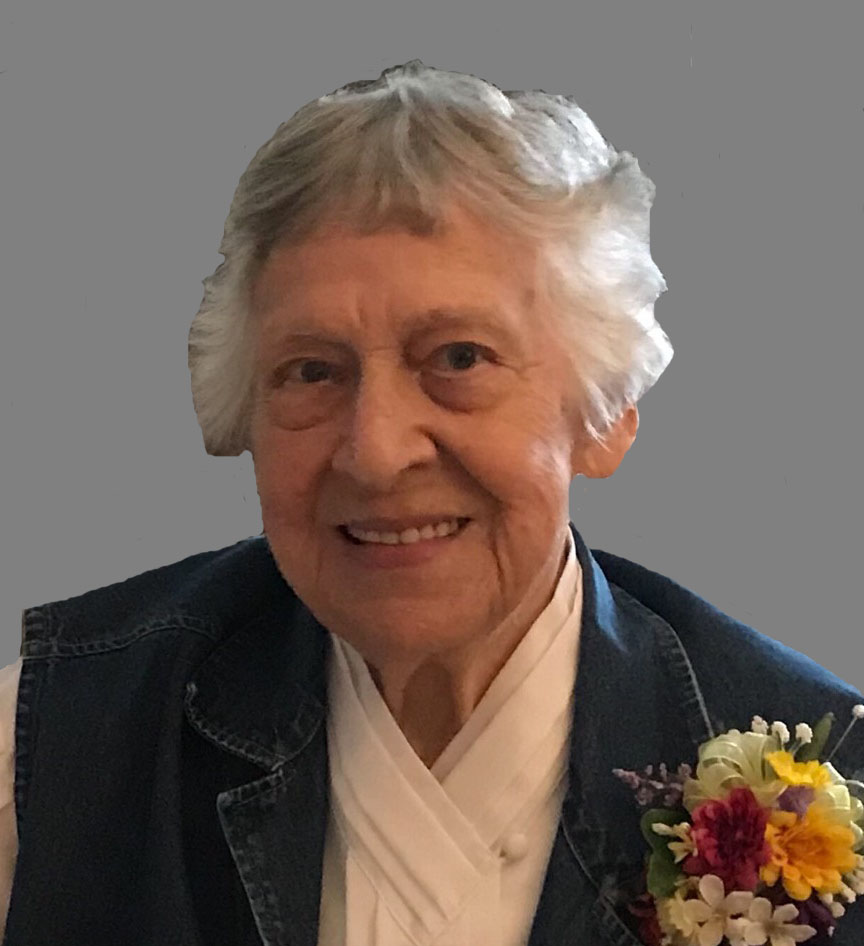 Esther Eugenia Koch
Visitation Dates and Times

Thursday, August 8, 2019, 4:00 p.m. to 8:00 p.m.

Friday, August 9, 2019, 8:30 a.m. to 9:30 a.m.

Visitation Location

Moss Funeral Home, Breese
Service Date

Friday, August 9, 2019

Service Time

10:00 a.m.

Service Location

St. Dominic Catholic Church, Breese
Full Obituary

Esther Eugenia Koch, 90, of Breese, passed away August 6, 2019, at Breese Caring First following a brief illness.

She was born March 26, 1929, in Germantown, the daughter of the late Edward and Isabel, nee Schlarmann, Netemeyer-Yaklin.   She married Donald Koch on August 22, 1953 at St. Mary Catholic Church in Carlyle; he survives in Breese.

Esther was a woman of deep faith; an active member of her church; and a tireless supporter of the pro-life movement, to which she dedicated her spirit and her energy.  During her active role as president of Clinton County Citizens for Life and board member of the Illinois Federation for Life, she served as an advocate for the unborn who did not have a voice by organizing numerous rallies and prayerful marches and writing countless letters and articles.

In addition to her active role in the pro-life movement, Esther held office as president of the Belleville Council for Catholic Women of the North Central Deanery and the Daughters of Isabella; and served as a lector, a Minister of the Eucharist, and a catchiest of religious education at St. Dominic Catholic Church in Breese.

Esther delighted in raising her eight children and watching her grandchildren and great-grandchildren grow up around her.

She is survived by her husband; children Susanne (James) Darr of Breese, Mark (Audrey) Koch of Highland, Matthew (special friend Mary Grapperhaus) Koch of Breese, Kristine (Kyle) Rank of Avon, IN, James (Lisa) Koch of Albers, Mary (Mark) Heffron of Trenton, and Theresa (Mike) Eilers of Albers; twenty-one grandchildren Shawn Darr, Kelly (Stuart) Kienlen, Neal Darr, Corey (Amanda Niedzwiecki) Darr, Jared Darr, Claire Koch, Alex Koch, Victoria (Matthew ) Timmermann, Joseph Rank, Thomas Rank, Christopher (special friend Allysa Cole) Koch,  Alissa (special friend Bailey Emig) Koch, Andrew Heffron, Stephanie Heffron, Joshua Heffron, Zachary Heffron, Lucas Eilers, Bryan Eilers, Jeffrey (special friend Gabby Bergmann) Eilers, and Jessica Eilers; eight great-grandchildren, Sophia, Colton and Liam Timmermann, Kaitlyn, Ryan and Connor Kienlen, and Savanah and Lillian Niedzwiecki-Darr; sisters-in-law Marcella Netemeyer and Monica Netemeyer; step-siblings Joyce Yaklin, Vera Yaklin, Mildred Maresh, Loraine Chaloupka, Francis (Alexa) Yaklin, John (Judy) Yaklin, and Joan (Bob) Klotz; and brother-in-law John McKinley.

She was preceded in death by her parents; son Thomas Koch; grandchildren Ryan Darr and Jenna Seelbach Darr; brothers, Matthew Netemeyer and his wife Marcia, Clarence Netemeyer and his wife Rita, Harold Netemeyer, and Cletus Netemeyer; stepfather, Leo Yaklin; step-siblings Joseph Yaklin, Richard Yaklin and his wife Rose, Earl Yaklin and his wife Patricia, Mary Robertson and her husband Pud,  Ralph Yaklin and his wife Jane, Carl Yaklin, and Romana McKinley; and brother-in-law Rod Chaloupka.

The Koch family would like to extend a special thank you to Breese Caring First's administration, nurses, and staff for their compassionate and excellent care.

Funeral Mass of Christian Burial will be Friday, August 9, 2019, at 10:00 a.m. at St. Dominic Catholic Church in Breese with Reverend George A.  Mauck and Deacon Linus Klostermann presiding. Interment will follow at St. Bernard Cemetery in Albers.

Visitation will be Thursday August 8, 2019, from 4:00 p.m. to 8:00 p.m. and Friday, August 9, 2019, from 8:30 a.m. to 9:30 a.m. at Moss Funeral Home in Breese.

In lieu of flowers, plants, and other gifts, memorials may be made to Mater Dei Catholic High School, All Saints Academy, or Clinton County Citizens for Life and will be received at Moss Funeral Home, which is serving the Koch family.