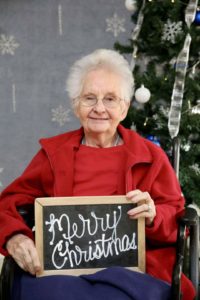 Fay L. Husmann
Service Date

Private Funeral Mass
Full Obituary

Fay was born on October 12, 1924 in Elko, Nevada to George Laubner and Margaret Belle Laubner Herbert. She entered into rest on December 25, 2020 at Breese Nursing Home. Fay married Alfred B. Husmann on April 24, 1954 who preceded her in death on February 16, 2012.

Fay is survived by her children; Susanne (Robert) Albers of Aviston, Kathy (Dan) Crain of Breese, Nick (Judy) Husmann of Breese, Julie (Bill) Plowman of Gerald, MO, Geri (Dale) Detmer of Breese, brother-in-law Raymond (Rose) Husmann, and sister-in-law Peggy Laubner. She was blessed with 14 loving grandchildren and 25 great-grandchildren. In addition to her parents, husband, and step-father Earl Herbert, she was preceded in death by two children in infancy, a son Gerald and a daughter Mary. Also, a great grandson in infancy Landen Detmer, a sister Margaret Belle Laubner Fonke and brother George Laubner Jr. In-laws also deceased include Vincent Fonke, Bernard and Trudy Husmann, Oscar and Elsie Oakley, Ben and Marcella Poelker, and Frank and Loretta Dreher.

Fay was a devoted daughter, wife, mother, grandmother, and great-grandmother. She loved spending time with family and friends, and time with her grandchildren and great-grandchildren was especially cherished. Prior to her marriage, she trained as a cosmetologist and owned her own beauty shop. She enjoyed being a homemaker and gave her time volunteering as a sacristan, housekeeper, and head of the decorating committee at St. Dominic Catholic Church in Breese. She was an active member of the St. Dominic Altar Society. Her many interests include baking, sewing, gardening, quilling, and watching the St Louis Cardinals. She was also proud to be a member of the Daughters of the American Revolution. Fay was an amazing woman, one who demonstrated spirit, determination, and tenacity. She instilled these qualities into her family.

A private funeral mass will be celebrated at St. Dominic Catholic Church in Breese with Fr. Patrick Peter officiating. Interment will be at St. Dominic/St. Augustine Cemetery in Breese.

Memorials may be made to St. Dominic Catholic Church and will be received through Moss Funeral Home, 535 N. 5th, Breese, IL 62230 who is serving the family.