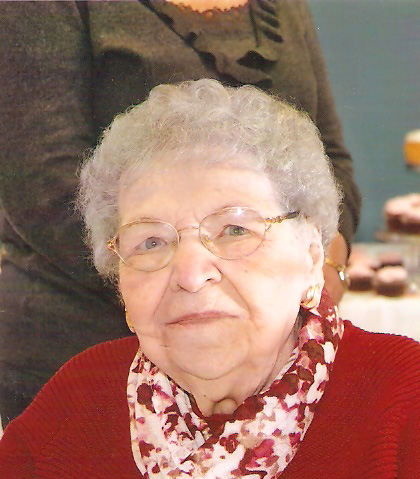 Flora M. Henken
Visitation Dates and Times

Thursday, January 23, 2014 9:00-10:45 am

Visitation Location

St. Dominic Catholic Church, Breese
Service Date

Thursday, January 23, 2014

Service Time

11:00 am

Service Location

St. Dominic Catholic Church, Breese
Full Obituary

Flora M. Henken, 99, of Breese, died Saturday, January 18, 2014 at Carlyle Healthcare Center, Carlyle, IL.

She was born in Greencreek, IL on February 17, 1914 to Henry Casper and Louisa (Stephany) Weirich. She grew up in Aviston and Germantown. In 1931 she married Arthur B. Henken and he preceded her in death.

Flora is survived by two sons, Arthur G. (Sylvia nee Heimann) Henken of Carlyle and Leland (Beverly nee Lea) Henken of Bluffton, SC; nine grandchildren, Mary Jo (Mark) Kratschmer, Betsy (Paul) Bacon, Kathy (Mikel) Huelsmann, Terese (Robert "Bob") Kasson, A.J. (Carol) Henken, Joseph (Cindy) Henken, Heather (John) McDermott, Lindsey (Ryan) Watson, and Eric (Victoria) Henken; 18 great-grandchildren; and sisters-in-law, Eleanor Henken of O'Fallon and June Gerhard of Maryville, TN.

She was preceded in death by her parents and husband; a daughter, Phyllis Henken who formerly lived in St. Louis, MO; and siblings, Viola, Joseph, Henry "Hank", Lucille, Hilda, Mary, Anna, Louise, Francis, Gertrude, and Charles; and sisters-in-law and brothers-in-law, Antonia, Sr. Bernardi, Mary, Sr. Benna, Frances, Clara, Joseph, John, Sr. Jude, and George.

Flora became more or less deaf in her early twenties, but regained her ability to hear with hearing aids. With experience and training, she later formed the Henken Hearing Co. dedicated to fitting aids for sale and maintaining aids with repairs and batteries for Qualitone hearing aids.

She was a member of St. Dominic Catholic Church and Altar Sodality, was the past Treasurer of the Breese Senior Citizens, and was the last of the charter members of the Daughters of Isabella Precious Blood Circle 718.

Flora was blessed with many years of life, enjoying the society of people at the senior meal site, bingo, and bunko games with generous help and concern of friends and relatives. She would want to say thanks.

Funeral Mass of Christian Burial will be Thursday, January 23, 2014 at 11:00 am at St. Dominic Catholic Church in Breese with Fr. Patrick Peter officiating. Interment will follow in St. Dominic/St. Augustine Cemetery, Breese.

Visitation will be Thursday, January 23, 2014 from 9:00-10:45 am at St. Dominic Catholic Church in Breese.

In lieu of flowers, memorials can be made to St. Dominic Church or to the Breese Senior Citizen Meal Site and will be received at church or through Moss Funeral Home in Breese who is in charge of the arrangements.