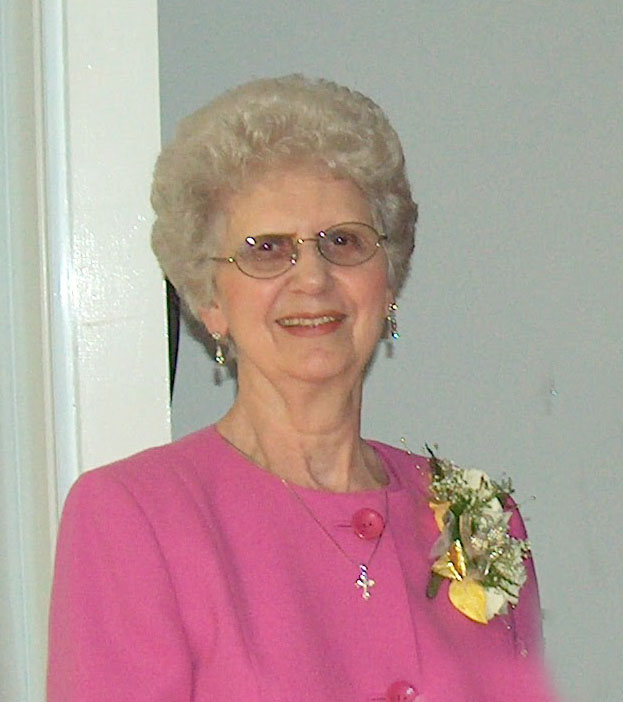 Florence E. "Flo" Dierkes

Visitation Dates and Times

Tuesday, July 12, 4:00 to 8:00 p.m.
~ American Legion Auxiliary Services at 7:00 p.m. ~
Wednesday, July 13, 8:00 to 9:30 a.m.

Visitation Location

Moss Funeral Home, Germantown
Service Date

Wednesday, July 13, 2016

Service Time

10:00 a.m.

Service Location

St. Boniface Catholic Church, Germantown
Full Obituary

Florence E. "Flo" Dierkes 87 of Germantown died Sunday July 10. 2016 at the Legacy Place in Breese.

She was born December 20, 1928 in Bartelso to Henry and Cecilia (Jansen) Becker: they preceded her in death.

She married Paul Dierkes June 7, 1955 at St. Cecilia Catholic Church, Bartelso and he survives in Breese.

Also surviving; her children Sharon (Dale) Fiehler of Scottsdale, AZ, Lester (Paula) Dierkes of Swansea, Janice (Roger) Chamberlain of Chicago, James (Shari) Dierkes of Clayton, DE.

her 8 grandchildren Chad (fiancé Stephanie Schmitt) Dierkes, Alex Dierkes, Drew (fiancé Natasa Timotijevic) Dierkes, Jordan (Justin) Albrecht, Elizabeth Dierkes, Camille Dierkes, Ryan (Burcu) Fiehler, Tagg (Joanna) Fiehler.
her 4 Great grandchildren Ayla, Eray, Amber, and Ashley Fiehler.

her brothers and sisters Lucille (Frank) Kampwerth of Carlyle, Donald Becker of Breese, Richard (Pat) Becker of Bartelso, Barbara (Robert) Robke of Germantown, Antoinette (George) Litzenburg of Carlyle

her brothers-in-law Andy Rakers of Beckemeyer, Paul Meyer of Trenton, her sister-in-law Esther Dierkes of Breese.

Also preceded in death by brothers Bob Thien, Bill Becker, Ray Becker, Albert "Tossie" Becker, Herman Becker, sisters Johanna Haar, Mary Ann Rakers, father-in-law and mother-in-law John and Eugenia (Winter) Dierkes, brothers-in-law Bill Haar, Eugene Dierkes, Clarence Dierkes, Franklin Dierkes, sisters-in-law Sylvia Becker, Mary Ann Becker, Laura Thien, Bernice Meyer, Eugenia Dierkes.

Flo worked as a cashier at Joe Beer Grocery Store in Bartelso for several years, and was a seamstress in Centralia and Brueggemann Drapery in Bartelso. She enjoyed sewing, quilting, baking, canning, reading, crafts, playing bingo and spending time with family. She and her husband enjoyed traveling, having traveled extensively in the United States including Hawaii and Alaska. Their travel adventures included many countries such as Canada, Italy, France, Ireland, Turkey, England and Germany where they met relatives of both the Becker and Dierkes families. Until the last year Flo and Paul spent many happy years in Germantown.

Member of St. Boniface Catholic Church and Ladies Sodality in Germantown, Germantown American Legion Auxiliary Post 325 where she was president for 15 years. Clinton County Homemakers Extension and a volunteer at Carlyle Health Care Center.

Funeral Mass of Christian burial will be Wednesday July 13, 2016 at 10:00 a.m. at St. Boniface Catholic Church, Germantown. Fr. James Buerster and Deacon Rich Bagby presiding. Interment St. Boniface Cemetery.

Visitation will be Tuesday July 12, from 4:00 to 8:00 p.m. and Wednesday July 13, from 8:00 to 9:30 a.m., at the Moss Funeral Home in Germantown.

Memorials can be made to Heartland Hospice, Hospice of Southern Illinois, and Alzheimer's Association and will be received at the funeral home.

American Legion Auxiliary will hold services on Tuesday at 7:00 p.m. at the funeral home.