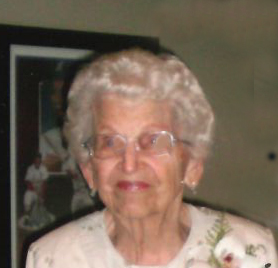 Frances M. Wuebbels
Visitation Dates and Times

Wednesday, July 3, 2019 9:00-10:45 a.m.

Visitation Location

St. Boniface Catholic Church, Germantown
Service Date

Wednesday, July 3, 2019

Service Time

11:00 a.m.

Service Location

St. Boniface Catholic Church, Germantown
Full Obituary

On June 30, 2019, Frances M. Wuebbels, age 99, of Germantown, departed this life and entered into eternal peace with God and His Kingdom.

Frances was born to the late Theodore and Theresa, nee Lischwe, Kleffner on April 7, 1920. She was one of nine children who grew up on their farm in Brinktown, MO.

In addition to her parents, she was preceded in death by her beloved husband of 53 years, Alvin J. Wuebbels, Sr. on May 19, 1997; her devoted son, Alvin J. Wuebbels, Jr. in 2002; her loving son-in-law, George Kessel in 2016; brothers Joe Kleffner, Norbert Kleffner and his wife Irene, Lambert Kleffner and his wife Generose, and Liborious Kleffner; sisters-in-law and brothers-in-law, Bonita Kleffner, Gene Hughes, Marcellus Poettker, Wilbert "Cotton" Wuebbels, Melvin Wuebbels, Frank and Marie Wuebbels, Jean and Gus Pflugmacher, Ella and Harry Nagel, Leona Wuebbels, and Ollie and Leona Wuebbels.

She leaves her loving memories to be cherished by loving children Janet (Rich) Heidemann of Chesterfield, MO, Mary (Jim) McCarthy of Tyler, TX, Stan Wuebbels of Germantown, IL, Brenda Kessel of O'Fallon, MO, and Gerry (friend Paula Laws) Wuebbels of Germantown; daughter-in-law Marian Wuebbels of Germantown, IL; eleven loving grandchildren, Nathan (Kelsi) Wuebbels, Alicia (Curt) Hemker, Rich (Nance) Heidemann, Jay (Erin) Heidemann, Shannon (Matt) Franklin, Tim Synar, Megan (Adam) Whelan, Maddie Lee, Jamie (Jay) Scoggins, Chris (Jessica) Kessel and Rob Kessel; twenty four great-grandchildren; siblings, Henry Kleffner, Rita Poettker, Sr. Monica Kleffner, CSJ, and Bernadine Hughes; and sisters-in-law, Martha Kleffner, Laura Wuebbels and Francelia Wuebbels.

At the age of 15, Frances moved to St. Louis to help support her family. During the War Frances worked at Amtorp in St. Louis, MO making torpedoes. After the War, she married Alvin J. Wuebbels, Sr. on September 2, 1944 and they moved to Germantown, IL where they raised 6 children.

Frances worked at the Marine Garment Factory in Highland, IL. until she retired at age 65 in 1985. Frances was a lifetime member of St. Boniface Catholic Church and the Altar Sodality. She became involved with the St. Vincent de Paul Food Panty in Germantown in 1997 after the passing of her husband. For 19 years she was a devoted volunteer at St. Vincent de Paul Food Pantry and retired in April 2016 at the age of 96. She was passionate about serving families in need and she loved her St. Vincent de Paul volunteer family. She received several awards for service and commitment to St. Vincent de Paul.

Frances will be remembered for many reasons, but two attributes that distinguish themselves are her unwavering faith in God and her belief in the power of prayer. She has earned the reputation of being a "prayer warrior" by many. Attending church and praying were always of utmost importance to her. We will remember her selfless dedication to her husband, family, and friends, her smile, her kindness, her optimistic attitude and the way she always acknowledged

the good in people. She truly epitomized a gentle soul with a loving and generous heart.

We have been blessed and our lives enriched because she was our Mom, grandmother, great-grandmother, sister, sister-in-law, aunt or friend. A little of her light is in each of us whose lives she has touched and loved. We celebrate and honor her life by permitting that light to guide us......until we meet again.

Funeral Mass of Christian Burial will be Wednesday, July 3, 2019 at 11:00 a.m. at St. Boniface Catholic Church in Germantown with Fr. James Buerster presiding. Interment will follow in St. Boniface Cemetery, Germantown.

Visitation will be Wednesday, July 3, 2019 from 9:00-10:45 a.m. at St. Boniface Catholic Church in Germantown.

In lieu of flowers, memorial contributions may be made to St. Vincent de Paul Food Pantry and will be received at the church or through Moss Funeral Home in Germantown who is serving the Wuebbels family.