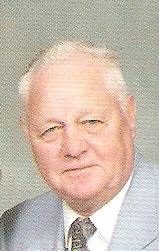 Frank A. Theising
Full Obituary

Frank A. Theising, 89, of Breese, IL, born June 29,1924 in Bartelso, IL, to Frank and Rose (Bergmann) Theising, died April 17, 2014 at St. Joseph's Hospital in Breese, IL.

He married Mary "Dolly" Glaub on June 29, 1948 at St. Dominic's Catholic Church in Breese; she survives.

In addition to his wife, he is also survived by his daughters, Polly, Pat, and Julie; sons, Frank and Tom; 9 grandchildren and 12 great-grandchildren; and a brother, Joe.

He was preceded in death by his parents, Frank and Rosa Theising; a brother Ray; sisters Marie, Rose, Elsie, Fran, and Josephine; and a great-granddaughter Elizabeth.

Frank served in the Army during World War II as a rifleman with the 132nd Infantry Regiment of the Americal Division in the South Pacific region where he earned a Combat Infantryman Badge and two Bronze Star medals. After the suspension of hostilities in August of 1945, Frank returned to his pre-war profession as a land surveyor with the 657th Topo Battalion as Party Chief for land surveys in Japan and much of South Korea. He was discharged from the Army in November of 1946 as a Staff Sergeant.

In May of 1955 he joined the Engineering firm Sverdrup & Parcel of St Louis and was involved in bridge construction across most major rivers in the eastern half of the United States, from Kansas to the Atlantic Coast, including the Chesapeake Bay Bridge Tunnel crossing and construction of the high level Bridge of the Americas across the Pacific entrance to the Panama Canal. He was resident engineer for the construction of the world's largest VSTOL wind tunnel for Lockheed Georgia Company, a number of projects for Anheuser Busch including relocation of the Refrigerated Cabinet Division to Conway, AR, the new Miller Brewery at Eden, NC, "from cow pasture to beer production in 11 months". He was also resident engineer for construction of launch facilities for the Trident submarine at Groton, CT, and Trident service facilities at King's Bay, GA. He retired from Sverdrup November 1990 as Construction Manager.

He was a member of American Legion Post 252 in Breese, the Veterans of Foreign Wars in Carlyle, the Knights of Columbus and Catholic War Veterans at Bartelso, and was a member of the Heritage Foundation.

His funeral service will be private service.