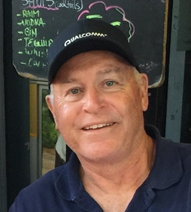 Gary Lee Moss
Full Obituary

Gary Lee Moss, 73, from Phoenix, AZ, formerly from San Diego, CA, and Breese, IL, passed away on Monday, November 21, 2022 in Phoenix, AZ after an unexpected, short illness.

He was born April 26, 1949 in Breese, IL to the late Leander "Ben" and Bernice (Billhartz) Moss.

He is survived by his beloved wife Marty Malano Moss of almost 20 years, whom he married May 31, 2003 in San Diego, CA. They met over a shared love of sports and all things San Diego State University athletics.

In addition to his wife, he survived by his three sons Jacob Moss and wife Veronica from San Francisco, CA; Branden Moss from Phoenix, AZ, and Christopher Moss and wife Julie from San Diego, CA. Additionally he has three step children: Nicki Malano, Lisa Tyree, and Michael Malano and his wife Carli all from Phoenix, AZ. They were the pride and joy of his life.

Gary cherished his grandchildren: Charles Moss and wife Madison, Austin Moss, Preston Moss, Christopher Moss, Macy Custer, Julia Tyree, Ryne Tyree, and Jocille Malano. Gary was anxiously awaiting the birth of a granddaughter from Chris and Julie, due next May. He loved being a grandpa.

He is also survived by his siblings: Donna Boeing and husband John of Palos Heights, IL, Dave Moss and wife Maura of Breese, IL, Barbara Rhodes and husband Richard of O'Fallon, IL, Lora Schultz of Germantown, IL, Glen Moss and wife Theresa of Dayton, OH, and sister-in-law Kim Moss of Trenton, IL, and many loved nieces and nephews.

He was preceded in death by his brother Mark Moss and brother-in-law Lonny Schultz.

Gary graduated from Mater Dei High School in 1967, where he excelled both academically and in basketball. He later graduated from SIU-Carbondale in 1971 with a BS degree in Political Science. Gary graduated with a Doctor of Juris Prudence Degree from Western State University in Fullerton, CA.

After college, little did people know that Gary was a DJ for a soul station. He followed his passion, as he had a love for music that still lives on within his family. After graduating, Gary worked in the banking industry as a loan officer. For the majority of his career, he was a Labor Research Analyst at the San Diego Workforce Partnership, where he retired after 18 years.

After retirement, he became interested in woodworking, mosaics, and crafts combining these loves in many special projects. He created gifts made with so much love for his wife, children, stepchildren, and grandchildren. His ultimate love was his family. Gary was very wise and gave the best advice to his loved ones that will be carried on indefinitely. He gave the world's greatest hugs and will be sorely missed.

There will be a Celebration of Life held at his request, in Phoenix, AZ.

Memorials in Gary's name can be made to Junior Achievement of Arizona (636 W. Southern Ave, Tempe, AZ. 85282): or Mater Dei High School tuition assistance by mailing to Moss Funeral Home, 535 N. 5th St. Breese, Il. 62230.