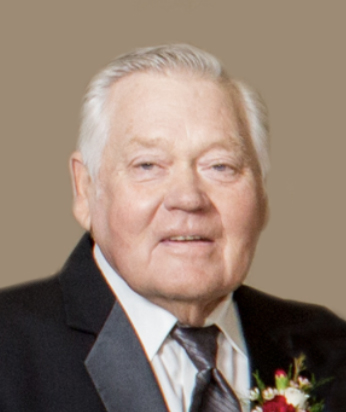 Gerald E. Hilmes
Visitation Dates and Times

Friday, June 2, 2023 from 4:00 – 8:00 p.m.

Saturday, June 3, 2023 from 9:00 – 10:15 a.m.

Visitation Location

Moss Funeral Home ~ Breese
Service Date

Service Time

Service Location

St. Felicitas Catholic Church ~ Beaver Prairie
Full Obituary

Gerald E. Hilmes, age 77, of Beaver Prairie, passed away Wednesday, May 31, 2023 at Barnes Jewish Hospital in St. Louis.

He was born July 16, 1945 in Breese, a son of the late Ferd and Dolores, nee Pax, Hilmes.

In addition to his parents, he was preceded in death by his brothers, Wilfrid (Charlotte) Hilmes, Sylvester (Julie) Hilmes, Ferdinand Hilmes, and Jerome Hilmes; father-in-law and mother-in-law, Joseph and Generose, nee Trefzer, Hoerchler; and brothers-in-law and sister-in-law, Raymond Usselmann, Mar Hilmes, and Wilford Pendergrass.

Gerald is survived by his wife, Marilyn Hilmes, nee Hoerchler, of Beaver Prairie, whom he married June 1, 1968 at Holy Childhood Church in Mascoutah; children, Bradley Hilmes of Beaver Prairie, Darian (Joyce) Hilmes of Beaver Prairie, Daryl (Emily) Hilmes of Beaver Prairie, Renee (Darin) Ratermann of Bartelso, Rhonda (Nicholas) Schluckebier of Donnellson, and Duane (Lacey) Hilmes of Breese; grandchildren, Jeralyn (Curt) VonBokel, Andrew (Katlyn) Hilmes, Zach (Keely) Hilmes, Christopher (friend, Callie Diekemper) Hilmes, Megan Hilmes, Johnathan, Justin, and Jaelyn Hilmes, Jared and Trent Ratermann, William, Emma, and Alyssa Schluckebier, and Lainey, Bentley, Hadley, and Emerie Hilmes; great-grandchildren, Owen, Claire, and Gavin VonBokel, Noah Hilmes, and Marynn and Ayla Hilmes; siblings, Florence Usselmann of Breese, Robert Hilmes of Beaver Prairie, Joe (Dot) Hilmes of Beaver Prairie, and Alice Pendergrass of Breese; sisters-in-law and brothers-in-law, Geraldine Hilmes of Little Prairie, Joan Hilmes of Highland, Myron (Joanne) Hoerchler of Freeburg, Linda Settle of Mascoutah, Kevin (Brenda) Hoerchler of Mascoutah, and Kent (Cathy) Hoerchler of Mascoutah; and numerous nieces and nephews.

Gerald was a lifelong grain and dairy farmer.  Throughout his years on the farm, Gerald found great happiness in working alongside his wife, sons, daughters, and grandchildren. Together, they shared countless memories and built a deep bond rooted in their shared love for the land. The legacy of his hard work and dedication to farming will continue through the generations to come.

He was member of St. Felicitas Catholic Church and also dedicated his time to community organizations such as the Clinton County Farm Bureau and Prairie Farms Dairy.  In his off time, he enjoyed traveling and exploring new places with his wife, Marilyn.

Funeral Mass of Christian Burial will be Saturday June 3, 2023 at 11:00 a.m. at St. Felicitas Catholic Church in Beaver Prairie with Fr. Tom Killeen presiding.  Interment will follow at St. Felicitas Cemetery.

Visitation will be Friday, June 2, 2023 from 4:00 – 8:00 p.m. and again Saturday, June 3, 2023 from 9:00 – 10:15 a.m. at Moss Funeral Home in Breese.

In lieu of flowers, plants, and other gifts, memorials may be made to St. Felicitas Catholic Church and will be received at the visitation or by mail, Moss Funeral Home, 535 N. 5th St. Breese, IL 62230, who is serving the family.