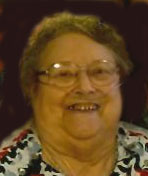 Gladys A. Finch
Visitation Dates and Times

Private Family Visitation and Service
Full Obituary

Gladys A. Finch, age 90, of Florissant, MO and formerly of Breese, passed away Sunday, March 15, 2020 at DePaul Hospital in St. Louis, Mo.

She was born April 15, 1929 in Breese, the daughter of the late Richard and Martha, nee Rolfingsmeier, Mete.

In addition to her parents, she was preceded in death by her husband Lee Finch, Sr., whom she married May 11, 1957 in St. Louis, MO and who died August 21, 1989; daughter, Martha DeClue; brothers, George and Richard Mete; sister Rosemary Dubois; and brothers-in-law, Bill Hogg and Bill Dubois.

Surviving are her children, Deborah Finch and Lee Donald (Carol) Finch, Jr all of St. Louis, MO; son-in-law, Larry DeClue of Florissant, MO; grandchildren, Andrew (Sherry) DeClue, Heather (Phil) Riehl, Ronnie (Arianna) Roth, and Aleena Finch; great-grandchildren, Katie, Alexandria, and Madelyn DeClue, Brayden Riehl, Kylie Laurent, and Alexa Roth; and sister, Margaret Hogg of Chesterfield, MO.

Gladys formerly worked in advertisement at a pencil factory and was a member of Sacred Heart Catholic Church in Florissant, MO. She was a former member of St. Augustine Catholic Church in Breese and St. Jude Catholic Church in Overland, MO.  Her hobbies included crocheting, sewing, and needlepoint.

All services will be private and interment will be in St. Dominic/St. Augustine Cemetery in Breese.

Memorials may be made to the American Cancer Society and will be received through Moss Funeral Home in Breese who is serving the family.