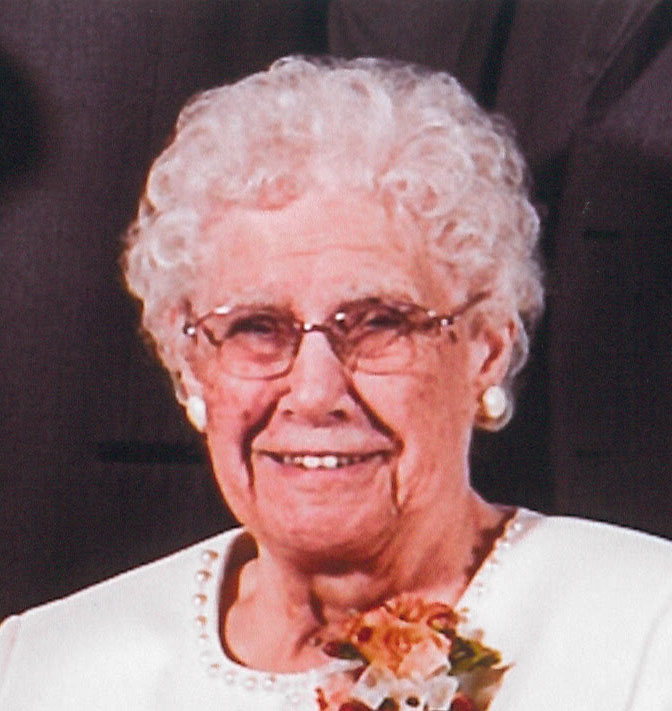 Helen Arentsen
Visitation Dates and Times

Monday, January 30, 4:00 to 8:00 p.m.
Tuesday, January 31, 8:00 to 9:45 a.m.

Visitation Location

Moss Funeral Home, Trenton
Service Date

Tuesday, January 31, 2017

Service Time

10:00 a.m.

Service Location

St. Mary Catholic Church, Trenton
Full Obituary

Helen A. Arentsen (nee Ripperda) 87 of Trenton died Saturday January 28, 2017 at Trenton Village.

She was born January 20, 1930 in Bartelso to Joseph and Margaret (Gerdes) Ripperda: they preceded her in death.

She married Otto Arentsen October 23, 1951 at St. Boniface Catholic Church, Germantown. He preceded her in death February 28, 2009.

Also, preceded in death by brothers Wilbert and Erwin Ripperda. Father-in-law and mother-in-law John and Anna (Kalmer) Arentsen, Brothers and sisters-in-law Alphonse and Margaret Olliges, Arnold and Dorothy Arentsen, Vince Arentsen, Rev. Edwin Arentsen, Frances Arentsen, Sr. Mary Damian Arentsen A.S.C., Rita and Aloysius Rakers.

Surviving are her children Jim (Bonnie) Arentsen of Trenton, Mike (Deb) Arentsen of Trenton, Tom (Tammy) Arentsen of Trenton, Pat (Elmer) Bugger of Troy, Mark (Sondra) Arentsen of Trenton, Brian (Melodi) Arentsen of Carlyle.

10 Grandchildren, Maggie (Adam) Gerstner, Kyle (Rachel) Arentsen, Shawn Arentsen, Cory Arentsen, Emily (Corey) Hahn, Allison (Derek Hamilton) Bugger, Casie Arentsen, Megan (Tyler) Kehrer, Hannah Arentsen, Noah Arentsen

2 great grandchildren Eve Arentsen, Zander Kehrer

Sister-in-law Florence Arentsen of Damiansville.

Helen was a homemaker, member of St. Mary Catholic Church and Altar Sodality, She was a sacristan with the church, St. Joseph Hospital Auxiliary, Breese, Mater Dei Mothers and Friends. She loved spending time with her grandchildren, playing cards, quilting and being a fan of the St. Louis Cardinals.

Funeral Mass of Christian burial will be Tuesday January 31, 2017 at 10:00 a.m. at St. Mary Catholic Church, Trenton. Fr. Joseph Rascher presiding. Interment St. Mary Cemetery, Trenton.

Visitation will be held on Monday January 30 from 4:00 p.m. to 8:00 p.m. and Tuesday January 31 from 8:00 a.m. to 9:45 a.m. at the Moss Funeral Home, Trenton.

Memorials can be made to St. Mary Altar Sodality, Mater Dei High School, Hospice of Southern Illinois and will be received at the funeral home.