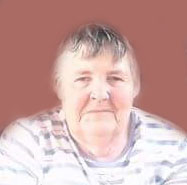 Janet Bitter
Visitation Dates and Times

Wednesday, June 7, 2017 4:00-7:00 p.m.

Visitation Location

Moss Funeral Home, Breese
Full Obituary

Janet Bitter, age 74, of Breese, born May 7, 1943 in Breese, a daughter of Frank and Agnes, nee Diesen, Bitter, died Saturday, June 3, 2017 at Highland Healthcare Center.

In addition to her parents, she was also preceded in death by a daughter, Lisa Holle; and siblings, Francis "Bud" Bitter and Joann Higgins.

Surviving are sons, Randy Bitter of Cleveland, OK and Tony (Patty) Kaufmann of Highland; 4 grandchildren, Ashley Bitter, Kendra (Rex) Moll, Andrew Holle, and Natashia Holle; 3 great-grandchildren; and siblings, Sandy (Jim) Brown of Smithton, Cathy (Don) Rakers of New Baden, Mary (Gervase) Schleper of Breese, and Ben (Sue) Bitter of Moscow Mills, MO.

Janet worked as a cook at Scott Air Force Base.

Visitation will be Wednesday, June 7, 2017 from 4:00-7:00 p.m. at Moss Funeral Home in Breese.
Memorials may be made to the family and will be received at the funeral home.