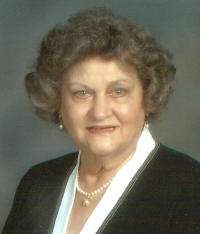 Janet Crabb
Visitation Dates and Times

Wednesday, January 4, 2012 5:00-8:00 PM
Thursday, January 5, 2012 10:00-10:45 AM

Visitation Location

Moss Funeral Home, Trenton
Service Date

Thursday, January 5, 2012

Service Time

11:00 AM

Service Location

St. Mary's Catholic Church
Full Obituary

Janet Elizabeth Crabb was born August 23, 1933 the daughter of Vincent and Verna (Ganz) Koppers in Trenton, IL, and passed away on January 2, 2012 at SSM DePaul Medical Center in Bridgeton, MO.

Jan graduated from Trenton High School in 1951 and on June 6, 1953 she married William F. Crabb at St. Mary's Catholic Church in Trenton, IL. They initially resided in St. Louis, MO where Janet worked as a bank teller. After her first child Connie was born, they all returned to Trenton, IL. During her residence there, her second child, Craig was born and she began floral arranging and cake decorating with her friend Gloria.

In the early 60s, the family moved to Northridge, CA where she honed her skills and expanded into interior design. The family then moved to Glendale, WI in the mid 70s, where Janet began as a teacher's aid.

Returning to the St Louis area in 1984, Janet continued to teach young preschool children at Bellefontaine Recreation Center and decorate cakes again with her friend.

While in Bellefontaine Neighbors, MO, she was a member of the Holy Name of Jesus Catholic Church.

Surviving is a daughter, Connie Crabb Kessler of West Des Moines, IA; a son, Craig W. Crabb of Chicago, IL; a granddaughter, Marilka Velez and her husband David Muehlbauer of Wauwatosa, WI; her mother Verna (nee Ganz) Koppers of Aviston, IL; a sister, Jean (nee Koppers) Koch of Trenton, IL; a nephew, Harvey Gunther and wife Candy of Trenton, IL; and many cousins, nephews, nieces, and friends.

Preceding Janet in death was her beloved husband William, her father, her maternal grandparents George and Theresa Ganz, and brother-in-law, Louis Koch.

Funeral Mass of Catholic Burial will be Thursday, January 5, 2012 at 11:00 AM at St. Mary's Catholic Church in Trenton with Fr. Chuck Tuttle officiating. Interment will follow in St. Mary's Cemetery, Trenton, IL.

Visitation will be Wednesday, January 4, 2012 from 5:00-8:00 PM and again on Thursday, January 5, 2012 from 10:00-10:45 AM at the Moss Funeral Home in Trenton.

Memorials can be made to St. Mary's Catholic Church and will be received at the funeral home.