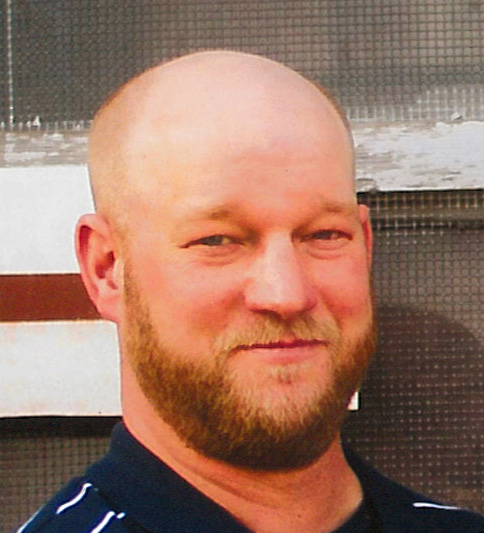 Jeremy E. Hemker
Visitation Dates and Times

Thursday, February 25, 2016  4:00-8:00 p.m.

Friday, February 26, 2016 10:00 a.m.-1:00 p.m.

As a request from the Hemker family and in lieu of flowers and gifts, please make memorials to his children's education fund. (Please make check payable to: Carrie Hemker, and if mailing please send to - Moss Funeral Home, c/o Jeremy Hemker Family, 535 N. 5th, Breese, IL 62230 and they will also be received at the funeral home.)

Visitation Location

Moss Funeral Home, Breese
Service Date

Friday, February 26, 2016

Service Time

2:00 p.m.

Service Location

St. Cecilia Catholic Church, Bartelso
Full Obituary

Jeremy E. Hemker, age 38 of Bartelso, born September 18, 1977 in Breese, a son of Louis "Sonny" and Jane, nee Beckmann, Hemker, died Tuesday, February 23, 2016 surrounded by his family in Bartelso. As a tissue and bone donor, his legacy will live on in others.

Jeremy worked in maintenance at Varel Dairy, Inc. in Bartelso and was a member of St. Cecilia Catholic Church in Bartelso. He enjoyed hunting, fishing, four wheeling, and boating, but most importantly, being a husband and father.

Surviving is his wife, Carrie, nee Mueller, Hemker of Bartelso, whom he married September 27, 2008 at St. Cecilia Catholic Church in Bartelso; his children, Owen and Caleb; his parents, Sonny and Jane Hemker of Bartelso; siblings, Shelly (Mark) Winning of Bartelso, Brian (friend Barb) Hemker of Posey, Lynn (fiancé Keith Kluemke) Billhartz of Carlyle, Scott (Carolyn) Hemker of Trenton, Keith (Amy) Hemker of Germantown, Corey (Mary) Hemker of Bartelso, Nathan (Lynette) Hemker of Mulberry Grove, and Alicia (friend Joe) Hemker of Breese; his father-in-law and mother-in-law, Dan "Pup" and Mary, nee Becker, Mueller of Bartelso; brother-in-law and sisters-in-law, Jeremy (Nicole) Mueller and Corrine Mueller all of Bartelso; grandmother-in-law, Mary, nee Beckmann, Mueller of Bartelso; and numerous, nieces, nephews, aunts, uncles, cousins, and friends.

He was preceded in death by his grandparents, William and Frances, nee Klienkorte, Beckmann and Ed and Bernadine, nee Eversgerd, Hemker; and his grandparents-in-law, Bernard and Adele, nee Voss, Becker and Joseph Mueller.

Funeral Mass of Christian Burial will be Friday, February 26, 2016 at 2:00 p.m. at St. Cecilia Catholic Church in Bartelso with Fr. James Buerster officiating. Interment will follow in St. Cecilia Cemetery, Bartelso.

Visitation will be Thursday, February 25, 2016 from 4:00-8:00 p.m. and again on Friday, February 26, 2016 from 10:00 a.m.-1:00 p.m. at the Moss Funeral Home in Breese.

As a request from the Hemker family and in lieu of flowers and gifts, please make memorials to his children's education fund, which will be received at the funeral home.