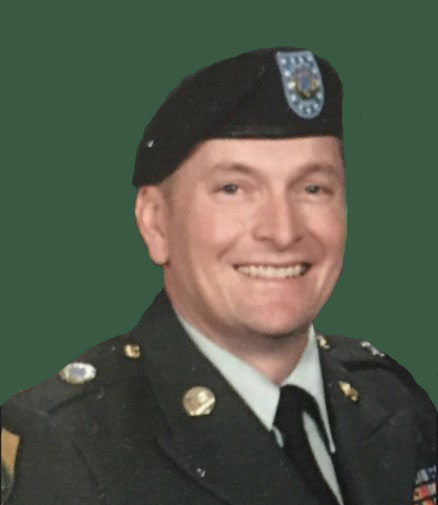 Jonathan G. Hopkins
Visitation Dates and Times

Saturday, June 22, 2019, 10:00 a.m. to 11:00 a.m.

Visitation Location

St. Francis of Assisi Catholic Church, Aviston
Service Date

Saturday, June 22, 2019

Service Time

11:00 a.m.

Service Location

St. Francis of Assisi Catholic Church, Aviston
Full Obituary

Jonathan Graham Hopkins, 52, of Aviston, was taken suddenly on June 8, 2019.

He was born on April 30, 1967 in Brunswick, Maine, to Frank and Joyce Hopkins. He joined the military at the age of 21 and was a proud patriot who served his country honorably. He retired from the U.S. Army as a Sergeant First Class after 21 years of service.

Jon was a graduate of the Army's Basic and Advanced Non-Commissioned Officer's Courses. During his active duty, Jon's career and training in communications took him places all over the world. He served in Fort Wainwright, Alaska, and then with the 11th Signal Brigade at Fort Huachuca, Arizona. He then traveled overseas in 1998 to Portugal (NATO), Korea (two tours), Italy (NATO), and Bahrain.

Jon returned to the United States in 2005, where he was stationed at Fort Bragg, North Carolina. He retired from DISA Headquarters, Scott Air Force Base, Illinois in 2010. After retirement, he worked in the defense industry.

Jon was awarded the Meritorious Service Medal (MSM), multiple Army Commendation Medals (ARCOM), and multiple Army Achievement Medals (AAM).

It was in Bahrain where Jon met the love of his life, Bernardita. The perfect pair were married in July 2007. They enjoyed vacationing with family and their son, Brent. Jon loved country music, good food, family, friends, wine, and his two spoiled schnauzers, Benji and Tramp. He was an active member of St. Francis of Assisi Church in Aviston.

Jon was preceded in death by his father, Frank Hopkins.

He is survived by his wife, Bernardita Hopkins of Aviston; son, Brent Hopkins of Aviston; mother, Joyce (Patt) Mudd of Tall Timbers, Maryland; stepmother, Phyllis Hopkins of Rockledge, Florida; sisters, Barbara (Mike) Sharrow and Tracy Greene of Rockledge, Florida; brother, Shawn (Lynna) Hopkins of Mt. Olive, Alabama; sister-in-law, Myla (Ron) Thornhill of McAlister, Oklahoma; cousin, Gemma Medallo of San Francisco, California; and goddaughter, Melissa Tolentino of San Francisco, California.

Funeral Mass of Christian Burial will be Saturday, June 22, 2019 at 11:00 a.m. at St. Francis of Assisi Catholic Church in Aviston with Fr. Dan Friedman presiding.

Visitation will be Saturday, June 22, 2019 from 10:00 a.m. to 11:00 a.m. at St. Francis of Assisi Catholic Church in Aviston.

Interment with full military honors will be held at a later date.