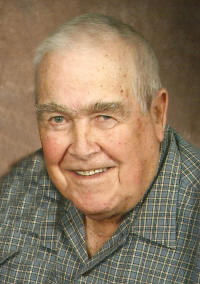 Joseph "Dennis" Huelskamp
Visitation Dates and Times

Monday, January 16, 2012, 4:00-9:00 PM
Tuesday, January 17, 2012 9:00-10:30 AM

Visitation Location

Moss Funeral Home, Breese
Service Date

Tuesday, January 17, 2012

Service Time

11:00 AM

Service Location

St. Augustine Catholic Church, Breese
Full Obituary

Joseph "Dennis" Huelskamp, 80, of Breese, died Wednesday, January 11, 2012 at his residence.

Mr. Huelskamp was born April 20, 1931 in Breese, IL to Joseph H. and Eleanor (Foppe) Huelskamp; they preceded him in death.

In addition to his parents, he was also preceded in death by a sister, Geraldine Luebbers; brothers, Jerome Huelskamp, Herman Huelskamp in infancy, and Lawrence Huelskamp in infancy; a granddaughter, Brooke Robert; and brothers-in-law and sisters-in-law, Bob Wikman, Tony Luebbers, Sally Krebs, Clem and Rita Jansen, Ted Luebbers, and Dick Lampe.

He married his wife of 59 years, Mary "Lorraine" Krebs on June 28, 1952 at St. Mary's Catholic Church, Carlyle and she survives in Breese.

Also surviving are his children, Kathie (Kevin) Korte of Breese, Theresa (Chuck) Luitjohan of Breese, Geralyn (Mick) Albers of Germantown, Doris (Tom) Goestenkors of Aviston, Bernadette Henrichs of St. Louis, MO, Gerard "Shorty" (Rose) Huelskamp of Breese, Denise (Bill) Trickey of Pierron, Angie (Pete) Fields of Highland, Mary Jo (Bill) Luitjohan of Pierron, Mark (Karen) Huelskamp of Breese, and Matt (Christa) Huelskamp of Highland; 29 grandchildren and 21 great-grandchildren; sisters, Sr. Julia Huelskamp, PHJC of Donaldson, IN, Rose Aline (John) Saufnauer of St. Louis, MO, Eleanor (Al) Fiascone of Batavia, IL, and Lorine Wikman of Culver, IN; brothers, Gerald (Lorene) Huelskamp, Erwin (Maxine) Huelskamp, David (Mary Beth) Huelskamp all of Breese, Tom (Jeanette) Huelskamp of Santa Anna, CA, and Joey (Marilyn) Benhoff of Evansdale, IA; sisters-in-law and brothers-in-law, Mary Roberson of Oregon, Clarence Krebs, Helen Luebbers both of Carlyle, Florence (Ralph) Wolters of Albers, and Dolly Lampe of Breese; and numerous nieces and nephews.

Dennis began his working career at the age of 12 as a farmhand and was a United States Navy Veteran serving from 1952 to 1956. Later, he continued to farm on his own, but also worked as a cook at Scott Air Force Base, a mechanic for the Army Corps of Engineers in Carlyle, and ran his own excavating company. His love for cooking never faded, and after retirement, Dennis along with his wife Lorraine spent many years working in the cafeteria at Mater Dei High School in Breese. Dennis loved farming and the outdoors, spending hours horse and buggy riding, hunting and fishing. His faith led him to make many handmade rosaries for his family, but his true passion was cooking and cherishing every moment with his family.

He was a member of St. Augustine Catholic Church and Holy Name Society, Breese Knights of Columbus Council 2869, a volunteer for the Associates of PHJC, and a past member of the Breese American Legion Post 252 and Clinton County Serra Club.

Funeral Mass of Christian Burial will be Tuesday, January 17, 2012 at 11:00 am at St. Augustine Catholic Church in Breese with Fr. Chuck Tuttle and Deacon Bob Lippert officiating. Interment will follow at St. Dominic/St. Augustine Cemetery in Breese with full military honors accorded by the Clinton County Drill Team.

Visitation will be Monday, January 16, 2012 from 4:00-9:00 pm and again on Tuesday, January 17, 2012 from 9:00-10:30 am at the Moss Funeral Home in Breese.

Memorials can be made to St. Augustine Church or to Mater Dei High School and will be received at the funeral home.

The Breese Knights of Columbus will visit the funeral home at 7:00 pm Monday evening.