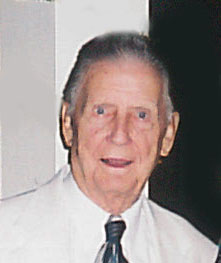 Joseph C. Schuetzenhofer
Visitation Dates and Times

Friday, November 9, 2018 10:00-11:00 a.m.

Visitation Location

St. Mary Catholic Church, Trenton
Service Date

Friday, November 9, 2018

Service Time

11:00 a.m.

Service Location

St. Mary Catholic Church, Trenton
Full Obituary

Joseph C. Schuetzenhofer, Jr., age 105, of Trenton, died Monday, September 24, 2018 at Aviston Countryside Manor.

Mr. Schuetzenhofer was born February 6, 1913 in E. St. Louis, a son of the late Frances, nee Feightinger, and Joseph Schuetzenhofer, Sr.

In addition to his parents, he was preceded in death by his dear friend, Elsie Wiebler; a daughter, Carol Ann Russell; grandson, Jack Russell; a great-grandson; sisters, Frances Travis and Emma Marie Shank; and brothers, Albert, John, and Herman Schuetzenhofer.

He is survived by a granddaughter, Rebecca Ann (Brian) Zimmermann; great-grandchildren; and Elsie's children, Sondra (Michael) McKinney of Wesley Chapel, FL, Linda (Jean-Yves) Perez of Elizabeth CO, and William (Susan) Wiebler of Del Ray Beach, FL; Elsie's grandchildren, Sean McKinney, Megan McKinney, Eric Perez, Valerie Edmonds, Jackson Wiebler and Charlie Wiebler; and Elsie's great-grandchildren.

Memorial Mass will be Friday, November 9, 2018 at 11:00 a.m. at St. Mary Catholic Church in Trenton with Fr. Joseph Rascher presiding. Interment will be in St. John Cemetery, Breese.

Visitation will be Friday, November 9, 2018 from 10:00-11:00 a.m. at the church.