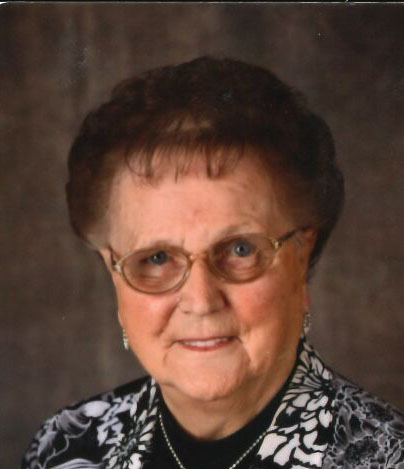 Josephine M. "Finnie" Winkeler
Visitation Dates and Times

Monday, October 7, 2019  4:00-8:00 p.m.

Moss Funeral Home, Germantown

Tuesday, October 8, 2019  11:00 a.m.-1:30 p.m.

St. Cecilia Catholic Church, Bartelso
Service Date

Tuesday, October 8, 2019

Service Time

2:00 p.m.

Service Location

St. Cecilia Catholic Church, Bartelso
Full Obituary

Josephine M. "Finnie" Winkeler, age 91, of Bartelso, passed away Saturday, October 5, 2019 at Breese Nursing Home.

She was born September 8, 1928 in Bartelso, a daughter of the late Phillip and Mary, nee Bergmann, Mensing.

In addition to her parents, she was preceded in death by her husband Rudolph "Rudy" Winkeler, whom she married September 18, 1946 and who died July 27, 1986; a son, Ronald "Dick" Winkeler; grandsons, Bobby Holthaus and Kyle Holthaus; sisters, Agnes Mensing and Frances Mensing; and brothers-in-law and sisters-in-law, George and Rose Winkeler, Albert and Helen Winkeler, Frank Winkeler, Edward and Helen Winkeler, Regis Krebs, Marie Winkeler, Johanna and Ted Fuehne, Josephine and Edward Kunkel, Betty and Isadore Gebke, and Marcella and James Clark.

Surviving are her children, Marcel (Lorraine) Winkeler, Dave "Weeps" (Tina) Winkeler, Kathy "Toots" (Jules) Holthaus, Tom (Dar) Winkeler, Dan "Sac" (Sue) Winkeler all of Bartelso, and Barb Jansen of Breese; daughter-in-law, Carolyn Winkeler of Germantown; 24 grandchildren and 40 great-grandchildren; sisters-in-law, Cleo Krebs of Carlyle and Agnes Winkeler of Bartelso; and numerous nieces and nephews.

Finnie was a member of St. Cecilia Catholic Church and Altar Sodality in Bartelso and formerly worked at Brueggemann Drapery in Bartelso and Carlyle Healthcare Center.  She enjoyed playing bingo, quilting, watching the St. Louis Cardinals, and attending her grandchildren's sporting events.

Funeral Mass of Christian Burial will be Tuesday, October 8, 2019 at 2:00 p.m. at St. Cecilia Catholic Church in Bartelso with Fr. James Buerster presiding. A private burial will take place at a later date.

Visitation will be Monday, October 7, 2019 from 4:00-8:00 p.m. at Moss Funeral Home in Germantown and again on Tuesday, October 8, 2019 from 11:00 a.m. to 1:30 p.m. at St. Cecilia Catholic Church in Bartelso.

In lieu of flowers, plants, and other gifts, memorials may be made to Community Link or St. Cecilia Catholic Church and will be received at the funeral home and church.