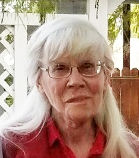 Karen M. (nee Venhaus) Campbell
Visitation Dates and Times

Monday, July 17, 2023   10:00-11:45 a.m.

Visitation Location

Moss Funeral Home, Breese
Service Date

Service Time

Service Location

St. Augustine Catholic Church, Breese
Full Obituary

Karen M. Campbell, of Swansea, peacefully passed away on Monday, July 10, 2023, at Barnes-Jewish Hospital in St. Louis at the age of 87. She was born on June 27, 1936, in Breese, to her late parents Edward and Rose Venhaus (nee Kuhl). Karen's loving husband of 63 years, Gerard "Jerry" Campbell, survives her in Swansea.

On May 11, 1960, Karen and Jerry embarked on their journey of love, exchanging vows in Breese. Together, they created a beautiful life filled with cherished memories. Karen is also survived by her devoted daughter, Kara (Mike) Doyle of Phoenix, AZ. She leaves behind her sister, Linda Kay (Gene) Schurman of Germantown, and her sisters-in-law and brother-in-law, Janet Venhaus of Breese, Charles Joseph Campbell of New York, and Karen Campbell of Washington.

In addition to her parents, Karen was preceded in death by her grandson, Michael Doyle, Jr.; step-mother, Henrietta Venhaus (nee Burtz); brother, Marvin Venhaus; sisters, Leola (Tom) Sudholt and Lillian (Paul) Luebbers; half-brother, Ed Venhaus; father-in-law and mother-in-law, Allen B. and Wilhelmina Campbell (nee Snyder); step-mother-in-law, Mary Campbell; and brother-in-law, Doug Campbell.

A dedicated homemaker, Karen created a warm and welcoming home for her family. In her leisure time, Karen found joy in sewing, gardening, and tending to her yard.

Funeral Mass of Christian Burial will be held on Monday, July 17, 2023, at 12:00 p.m. at St. Augustine Catholic Church in Breese with Fr. George Mauck presiding.  Interment will follow at St. Dominic/St. Augustine Cemetery, Breese.

Visitation will take place from 10:00 a.m. to 11:45 a.m. on Monday, July 17, 2023 at Moss Funeral Home in Breese.

In lieu of flowers, plants, and other gifts, memorials may be made to the donor's choice and will be received at the visitation or by mail, Moss Funeral Home, 535 N. 5th St. Breese, IL 62230, who is serving the family.