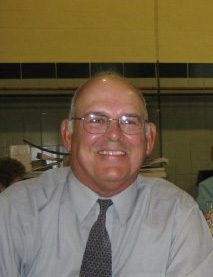 Larry J. Kues
Visitation Dates and Times

Wednesday, May 29, 2013 4:00-800 pm
Thursday, May 30, 2013 8:00-9:30 am

Visitation Location

Moss Funeral Home, Germantown
Service Date

Thursday, May 30, 2013

Service Time

10:00 am

Service Location

St. Cecilia Catholic Church, Bartelso
Full Obituary

Larry J. Kues, 64, of Bartelso, died Monday, May 27, 2013 at Relais Bonne Eau Hospice Home in Edwardsville, IL.

Mr. Kues was born May 16, 1949 in Breese to Richard and Elvira "Sis" (Spaeth) Kues; they preceded him in death.

In addition to his parents, he was also preceded in death by a brother, Dennis Kues; sisters-in-law, JoAnn Kues, Linda Kues, and Mary Jean Kreke; his father-in-law, Frank "Bud" Kreke; and a nephew, Clint Kues.

He married Karen Kreke on November 12, 1977 at St. Cecilia Catholic Church in Bartelso; she survives in Bartelso.

Also surviving is a son, Eric (Jenna) Kues of Germantown; 2 grandchildren, Mikaela and Jackson Kues; brothers, Robert Kues of Bentonville, AR, Gary (Pat) Kues and Allen (Mary) Kues all of New Baden; his mother-in-law, Celia Kreke of Bartelso; sisters-in-law and brothers-in-law, Wanda (Roger) Gildig of New Baden, Joyce (John) Marshall of New Baden, Don (Jean) Kreke of Bartelso, Deb (Dwayne) Brinkmann of Carlyle, Jackie (Dennis) Koelling of Bartelso, and Jim (Tammy) Kreke of Bartelso; and many special nieces, nephews, cousins, and friends.

Larry retired from the Illinois Department of Transportation and was a Veteran of the United States Air Force. He enjoyed spending time with his family and friends, especially his grandchildren. He loved gardening, playing cards, deer hunting with his son Eric and grandson Jackson and following his grandchildren's sporting events.

He was a member of St. Cecilia Catholic Church, Bartelso American Legion Post 976, and was a Teamster, Local 50, Belleville.

Funeral Mass of Christian Burial will be Thursday, May 30, 2013 at 10:00 am at St. Cecilia Catholic Church in Bartelso with Fr. Henry Fischer and Fr. James Buerster officiating. Interment will follow in St. Cecilia Cemetery, Bartelso.

Visitation will be Wednesday, May 29, 2013 from 4:00-8:00 pm and again on Thursday, May 30, 2013 from 8:00-9:30 am at the Moss Funeral Home in Germantown.

Memorials can be made to Mater Dei High School, Hospice of Southern Illinois, or to the St. Cecilia Church Building Fund and will be received at the funeral home.