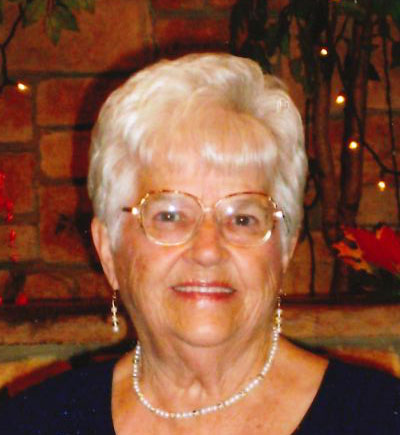 Laura M. Laux
Visitation Dates and Times

Saturday, March 7, 2020 9:00-10:45 a.m.

Visitation Location

St. Augustine Catholic Church, Breese
Service Date

Saturday, March 7, 2020

Service Time

11:00 a.m.

Service Location

St. Augustine Catholic Church, Breese
Full Obituary

Laura M. Laux, age 92, of Breese, passed away Monday, March 2, 2020 at her home.

She was born February 15, 1928 in Bartelso, a daughter of the late Louis and Mary, nee Pingsterhaus, Varel.

In addition to her parents, she was preceded in death by her husband Laverne Laux, whom she married August 29, 1950 at St. Cecilia Catholic Church in Bartelso and who died November 1, 1990; a son, Les Laux; siblings, Clara Huelsmann, Agnes Holtmann, Martha Duing, Leo Varel, and Lucy "Lou" Korte; and brothers-in-law and sisters-in-law, Joseph Huelsmann, Joseph Holtmann, Walter Duing, Marcella Varel, Alfred "Fritz" Korte, Irlene Varel, Sue Laux, Henry Dust, Ralph Ashcroft, and Bernice Hellige.

Surviving are her children, Leon (Rhonda) Laux of St. Charles, MO, Lois Laux of St. Louis, MO, LuAnn Laux of Naples, FL, Linda (Pat) Albers of Mascoutah, Lori Christmann of Trenton, and Lyle Laux of Breese; daughter-in-law, Sandy (Glen) Harris of Breese; grandchildren, Alex (Erinn) Laux, Justin Albers, Jacob (Dani) Albers, Aubrey Albers, Aleisha Albers, Sarah (James) Smith, Zachary (Sarah) Rakers, Hannah Christmann, Emma Christmann, Sarah Riechers, and Carey Raskind; great-grandchildren, Gavin and Katelyn Smith, Elijah Albers, and Rhett Rakers; a brother, Edward "Ep" Varel of Carlyle; brothers-in-law and sisters-in-law, Burnell "Rookie" Laux of Breese, Marcella Ashcroft of Pana, and Rich (Peggy) Hellige of Breese; and nieces and nephews.

Laura formerly worked in housekeeping at St. Joseph's Hospital in Breese and was a member of St. Augustine Catholic Church in Breese. She enjoyed playing bingo, listening to music, and watching the St. Louis Cardinals. She adored her children, grandchildren, great-grandchildren, and her children would like to tell her "Mother, it has been a privilege and honor to have cared for you as you have always cared for us".

 

Funeral Mass of Christian Burial will be Saturday, March 7, 2020 at 11:00 a.m. at St. Augustine Catholic Church in Breese with Fr. Chuck Tuttle presiding.  Interment will follow in St. Dominic/St. Augustine Cemetery in Breese.

Visitation will be Saturday, March 7, 2020 from 9:00-10:45 a.m. at St. Augustine Catholic Church in Breese.

In lieu of flowers, plants, and other gifts, memorials may be made to St. Augustine Catholic Church, Hospice of Southern Illinois, or the St. Joseph's Auxiliary Lights for Scholarship and will be received at the church or through Moss Funeral Home in Breese who is serving the family.