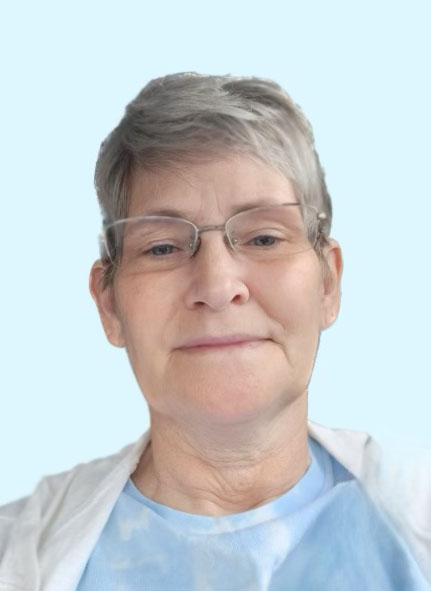 Laurie Ann Castellano
Visitation Dates and Times

Friday, September 15, 2023 from 9:00 – 11:00 a.m.

Visitation Location

Moss Funeral Home ~ Trenton
Service Date

Friday, September 15, 2023

Service Time

Service Location

Moss Funeral Home ~ Trenton
Full Obituary

Laurie Ann Castellano, age 61, of Trenton, passed away Sunday, September 10, 2023 surrounded by her family.

She was born August 26, 1962 in Walnut Ridge, AR, a daughter of the late Shirley, nee Jones, and Niels Sorensen, Sr.

Laurie is survived by her children, Nicole (Todd) Bland of Aviston, Megan (Chris) Detmer of Aviston, and Ron "Buddy" (Vanessa) Peterson of Trenton; grandchildren, Riley and Haylie Bland, Corrine, Eyan, Kylie, and Kynley Detmer, and Alex, Ayden, and Ashton Peterson, and had the unique privilege of being affectionately called "grandma" by many others; siblings, Niels (Carla) Sorensen, Jr. of Albers, Richard (Barb) Sorensen of Breese, Mary Ann (Mark) Lake of Bluford, Cerese Smothers of Indiana, Barry Czarnecki of Ozark, MO, and RoxAnn Bickner of O'Fallon; special friend, Brad Hinckle of Trenton; and nieces and nephews.

In addition to her parents, Laurie was preceded in death by a brother, David Sorensen and brother-in-law, Emil Bickner.

Laurie worked as a manager at GDB International in Nashville and was a member of Westgate Baptist Church in Trenton.  She had a keen eye for fashion and enjoyed the thrill of shoe and purse shopping. Solving puzzles and creating beautiful artwork through drawing brought her immense joy. Laurie was an avid supporter of the St. Louis Cardinals baseball team, always rooting for them with enthusiasm. However, her most treasured moments were those spent with her family and adored grandchildren, whose presence filled her heart with love and happiness.

Funeral Service will be Friday, September 15, 2023 at 11:00 a.m. at Moss Funeral Home in Trenton with Rev. Paul Hooks officiating.  A private interment will follow at Trenton Cemetery.

Visitation will be Friday, September 15, 2023 from 9:00 – 11:00 a.m. at Moss Funeral Home in Trenton.

In lieu of flowers, plants, and other gifts, memorials may be made to the Cancer Warriors of Clinton County and will be received at the visitation or by mail, Moss Funeral Home, 105 S. Main St. Trenton, IL 62293, who is serving the family.