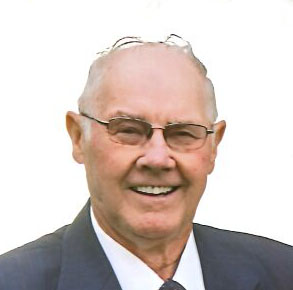 Lavern J. "Bud" Langhauser
Visitation Dates and Times

Monday, September 16, 2019  4:00-8:00 p.m.

Tuesday, September 17, 2019  8:00-9:30 a.m.

Visitation Location

Moss Funeral Home, Breese
Service Date

Tuesday, September 17, 2019

Service Time

10:00 a.m.

Service Location

St. Augustine Catholic Church, Breese
Full Obituary

Lavern J. "Bud" Langhauser, age 85, of Breese, passed away Wednesday, September 11, 2019 at HSHS St. Joseph's Hospital in Breese.

He was born September 7, 1934 in Bartelso, a son of the late Alphonse and Mildred, nee Hustedde, Langhauser.

In addition to his parents, he was preceded in death by a son, Dale Langhauser; sister, Marilyn Harbaugh; father-in-law and mother-in-law, Barney and Leona, nee Holtgrave, Feldmann; and brothers-in-law and sisters-in-law, Tony Frohn, Sandy Feldmann, Lawrence Feldmann, Richard Feldmann, and Herbert Feldmann.

Surviving are his wife Bernice, nee Feldmann, Langhauser, whom he married October 10, 1956 at St. Francis of Assisi Catholic Church in Aviston; children, Kenny (friend Lynette Tanner) Langhauser of Woodlawn, Michael (Betty) Langhauser of Salem, Shirley (fiancé Joe E. Wolters) Finne of Breese, and Dave (Brenda) Langhauser of Reddick; grandchildren, Jared (Lauren) Langhauser, Nick (Leann) Langhauser, Holly (Eric) Williams, Ashley (Charles) Asbell, Lyndsey (Matt) Castagna, Chester "Chad" Finne, III, Jason Langhauser, and Jennifer Langhauser; 9 great-grandchildren; siblings, Florence Frohn of Breese and Betty (Paul) Rickhoff of Bartelso; brothers-in-law and sisters-in-law, William (Dana) Harbaugh of Columbia, Francis "Pete" Feldmann of Highland, Mary Ann Gent of Tinley Park, Carol Feldmann of Aviston, and Ruby Feldmann of Summerfield; and numerous nieces and nephews.

Bud formerly worked for the Local 520 Operator Engineers, retired as a truck driver for Timmermann Milk Service in St. Rose, and was a pork and grain farmer.

Bud was a member of St. Augustine Catholic Church in Breese where he helped with bingo and chicken dinners, Breese Knights of Columbus Council 2869, Knights of Columbus 4th degree Bishop Althoff Assembly where he was currently serving as the inner sentinel, and the Clinton County Farm Bureau. He was also a member of the Green Iron Club and had a deep passion for restoring John Deere tractors. Bud enjoyed hunting, fishing, picking up pecans, gardening, playing euchre, being in parades with the Knights of Columbus and Green Iron Club, but most of all socializing with everyone and anyone.

Funeral Mass of Christian Burial will be Tuesday, September 17, 2019 at 10:00 a.m. at St. Augustine Catholic Church in Breese with Fr. Chuck Tuttle presiding. Interment will follow in St. Dominic/St. Augustine Cemetery, Breese.

Visitation will be Monday, September 16, 2019 from 4:00-8:00 p.m. and again on Tuesday, September 17, 2019 from 8:00-9:30 a.m. at Moss Funeral Home in Breese.

Memorials may be made to the donor's choice and will be received at the funeral home.

The Breese Knights of Columbus will hold services at 7:00 p.m. followed by the 4th Degree Bishop Althoff Assembly chalice service Monday evening at the funeral home.