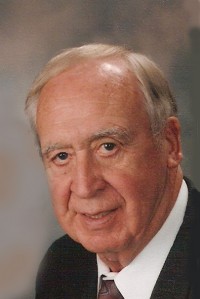 Leander J. "Lindy" Horstmann
Visitation Dates and Times

Tuesday, May 22, 2012 4:00-8:00 PM
Wednesday, May 23, 2012 8:00-10:15 AM

Visitation Location

Moss Funeral Home, Germantown
Service Date

Wednesday, May 23, 2012

Service Time

11:00 AM

Service Location

St. Damian's Catholic Church, Damiansville
Full Obituary

Leander J. "Lindy" Horstmann, 85, of Damiansville, died Monday, May 21, 2012 at St. Joseph's Hospital in Breese.

Mr. Horstmann was born September 12, 1926 in Damiansville to Henry C. and Helen (Olliges) Horstmann; they preceded him in death.

Also preceded in death by sisters, Loretta Heimann and Honora Heimann; father-in-law and mother-in-law, Hermann and Eugenia (Beckmann) Brandmeyer; and brothers-in-law and sisters-in-law, Joseph Heimann, Louis Heimann, Helen Horstmann, Virginia Horstmann, and Ralph "Rudy" Brandmeyer.

He married Florence Brandmeyer on May 2, 1950 at St. Damian's Catholic Church in Damiansville; she survives in Damiansville.

Also surviving are his children, Norman (Rosann) Horstmann, Stephen (Cheetah) Horstmann, Sharon (Garry) Kalmer, Shirley (Dave) Albers, Ron Horstmann all of Damiansville, Nancy Horstmann of Portland, OR, Deb (Sean) Howard of Las Vegas, NV, and Lynn Horstmann of Trenton; 18 grandchildren, Meghann (Emmett) Talkington, Justin Horstmann, Britt (Matt) Reisch, Kelly (Phillip) Moss, Jared (Tara) Horstmann, Cole (Andrea) Horstmann, Travis Kalmer, Alex Kalmer, Sara (Scott) Rensing, Brian Albers, Keith Albers, Kayla Albers, Dane (special friend Chyrisse Renegarbe) Horstmann, Riley Horstmann, Luke Horstmann, Robert Howard, Spencer Howard, and Scarlett Catanzaro; 10 great-grandchildren, Jaxx Talkington, Alden, Owen, and Bennett Moss, Kannon and Alivia Reisch, Brant Horstmann, Kaela Rensing, Ellie Hostmeyer, and Drake Rensing; a sister, Irene Horstmann of Damiansville; brothers, Clarence (special friend Margaret Pollmann) Horstmann of Beckemeyer and Elmer Horstmann of Bartelso; sisters-in law and brother-in-law, Patricia Brandmeyer of Albers and Dolores (Herman) Fauke of Carlyle; and numerous nieces and nephews.

Lindy retired as the Bookstore Manager at Kaskaskia College in Centralia. Prior to working at the college, he was a self employed carpenter and was the owner and operator of Horstmann's Store in Damiansville. He enjoyed golfing, camping, taking long drives, and especially spending time with his family.

He was a member of St. Damian's Catholic Church, Holy Name Society, and Choir, was the 1st President of the Damiansville Chamber of Commerce, was the first Mayor of the Village of Damiansville, and was a longtime softball coach.

Funeral Mass of Christian Burial will be Wednesday, May 23, 2012 at 11:00 am at St. Damian's Catholic Church in Damiansville with Fr. Jack Joyce officiating. Interment will follow in St. Damian's Cemetery, Damiansville.

Visitation will be Tuesday, May 22, 2012 from 4:00-8:00 pm and again on Wednesday, May 23, 2012 from 8:00-10:15 am at the Moss Funeral Home in Germantown.

Memorials can be made to St. Damian's Catholic Church building fund or to the Alzheimer's Association and will be received at the funeral home.