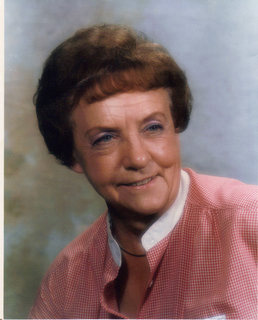 Loretta Gorman
Service Date

Saturday, April 20, 2013

Service Time

10:00 AM

Service Location

St. Mary Catholic Church, Trenton, IL
Full Obituary

Mass of Christian burial for Loretta Cervenka Gorman, 93-year-old Buffalo, Wy. resident, who passed away suddenly January 15, 2013 at the Beehive Home in Buffalo, Wy. will be offered at 10:00 a.m. on April 20, from the St. Mary Catholic Church in Trenton, with Rev. Joe Rascher as celebrant, and Fr. Don Blaes as con-celebrant. Interment will be in St. Mary Cemetery in Trenton. A gathering celebrating Loretta's life will be at the Hidden Lake Winery Restaurant in Aviston, Ill. immediately following the graveside service.

Loretta Ann Cervenka Gorman was born on March 22, 1919 in Breese, Ill. to Herman and Theresa Korte. She grew up on the family farm and attended Crackerneck Country School.
She moved to St. Louis, Mo. where she met and married Anthony Cervenka on March 1, 1938.
The couple moved to Trenton, Ill. in 1951, where they owned and operated Castle Upholstery Company and raised their family. Anthony Cervenka passed away in 1974, and Loretta sold the business and worked for Davis Formal Wear. In 1981 she was married to Robert Gorman in Trenton. Robert Gorman passed away in 1993, and Loretta continued living in Trenton until 2006 when she moved to Buffalo, Wy. to be near her daughters.

Loretta was especially proud of her volunteer work at the hospital in Breese, Ill. She was an avid sports fan and enjoyed baseball, as well as attending her great-grandchildren's basketball and volleyball games. She was an accomplished seamstress and enjoyed quilting, needlework, making rosaries and playing pool at the Buffalo Senior Center. She was a member of the St. John the Baptist Catholic Church in Buffalo, Wy., the Rosary Makers Guild, the American Legion Auxiliary and the VFW Auxiliary.

Loretta is survived by two daughters, Antoinette Cervenka and Dolores McMahan and her husband, John, all of Buffalo, Wy.; one daughter-in-law, Jan Cervenka of St. Louis, Mo.; one sister-in-law, Mary Korte of Trenton, Ill.; eight grandchildren: Alexandra Cervenka-Slack and her husband Ryan of Pittsburgh, Pa.; Janina Gibbs and her husband Jim of Arvada, Wy.; Kristina Nunn and her husband J.T. of Laramie, Wy.; Catherine Miner and her husband Tim of Henderson, Nev.; Luke McMahan and his wife Jennifer of Buffalo, Wy.; Lorinda Koening and her husband Ken of St. Louis, Mo.; Christine Cervenka of Dallas, Tx.; Michelle Strake and her husband Alan of O'Fallon, Ill.; and 13 great grandchildren. She was preceded in death by her parents, her husbands, one son Lawrence Cervenka, seven brothers and one sister.

Donations in Loretta's memory may be made to the American Legion Baseball Team in care of the Moss Funeral Home in Trenton, Ill.