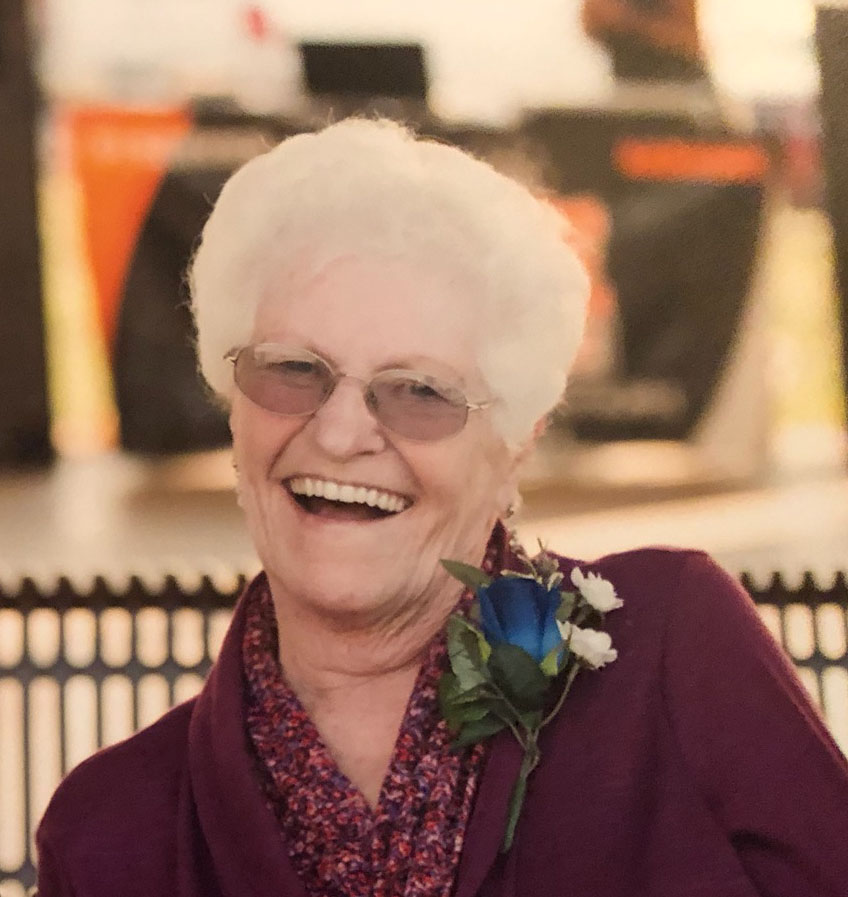 Loretta M. "Tootie" Trame
Visitation Dates and Times

Monday, July 15, 2019, 4:00 p.m. to 8:00 p.m.

Tuesday, July 16, 2019, 8:00 a.m. to 9:30 a.m.

Visitation Location

Moss Funeral Home, Germantown
Service Date

Tuesday, July 16, 2019

Service Time

10:00 a.m.

Service Location

St. Cecilia Catholic Church, Bartelso
Full Obituary

Loretta M. "Tootie" Trame, age 79, of Bartelso, died Friday, July 12, 2019 at SSM Health St. Louis University Hospital in St. Louis.

She was born May 27, 1940 in Germantown, a daughter of the late Henry and Frances E., nee Luebke, Rickhoff. She married August "Augie" Trame August 9, 1960 at St. Bernard Catholic Church in Albers; he preceded her in death September 12, 1997.

Loretta is survived by her children, Sherri (friend Greg Heimann) Haukap of Albers, Mike (Rosie) Trame of Damiansville, Paul (Carla) Trame of Bartelso, Shirley (Tony) Seeger of Hoyleton, Ron (Sheila) Trame of Bartelso, and Shelly (Pat) Dall of Carlyle; grandchildren Jessica and Renee Haukap, Melissa (Jody) Gustafson, Evan (friend Amanda Taylor) Trame, Travis (Sara) Trame, Tiffany (Levi) Sronce, Teresa Trame, Josh (Crystal) Seeger, Justin (friend Laci Kempfer) Seeger, Tyler (friend Victoria Woods) Dall, and Zachary and Dalton Dall; four great-grandchildren; brother Paul "Massey" (Betty) Rickhoff of Bartelso; and brothers-in law and sisters-in-law Lou Rickhoff of Breese, Dolores "Girley" and Edward "Peabody" Rickhoff of Bartelso, Jenny Vogel of Bartelso, and Marian Krebs of Breese.

In addition to her parents and husband, she was preceded in death by her granddaughter Kayla Dall; siblings Alfred "Bigfoot" Rickhoff and his wife Fronie, Bernice Loepker and her husband Victor, and Robert "Smitty" Rickhoff; father-in-law and mother-in-law, Fred and Agnes, nee Gebke, Trame; and brothers-in-law Jim Vogel and Paul Trame.

Loretta was previously employed at Brueggemann Drapery in Bartelso, Becker Egg Company in Germantown, and Carlyle Healthcare in Carlyle. She was a member of St. Cecilia Catholic Church in Bartelso. She enjoyed bowling, watching the St. Louis Cardinals, spending time at her clubhouse, and, most of all, spending time with her family, especially her grandchildren and great-grandchildren.

Funeral Mass of Christian Burial will be Tuesday, July 16, 2019 at 10:00 a.m. at St. Cecilia Catholic Church in Bartelso with Fr. Jim Buerster presiding. Interment will follow in St. Cecilia Cemetery in Bartelso.

Visitation will be Monday, July 15, 2019 from 4:00 p.m. to 8:00 p.m. and Tuesday, July 16, 2019 from 8:00 a.m. to 9:30 a.m. at Moss Funeral Home in Germantown.

Memorials may be made to St. Cecilia Catholic Church or American Diabetes Association and will be received at the funeral home or through Moss Funeral Home, who is serving the family.