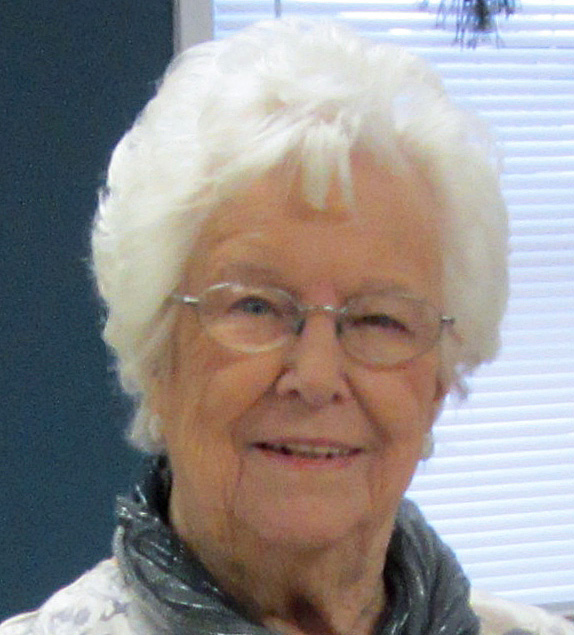 Loretta F. McAllister
Visitation Dates and Times

Saturday, June 23, 2018 9:00-11:00 a.m.

Visitation Location

St. Dominic Church, Breese
Service Date

Saturday, June 23, 2018

Service Time

11:00 a.m.

Service Location

St. Dominic Church, Breese
Full Obituary

Loretta McAllister, 93, of Breese died Tuesday, June 19, 2018, at Cedarhurst, with her children by her side.

Loretta was born in Trenton IL on Jan 1, 1925, to Frank and Anna, nee Wesselmann, Venhaus of Aviston. She married Elmer (Mac the barber) McAllister, Jr. of Breese in 1949. They spent their lives together in Breese. Before Mac's death in 2001, the couple celebrated 53 years of marriage. Loretta was a homemaker and worked at St Joseph's Hospital for a time. She loved traveling with her husband and spending time with family. Loretta had the heart of a servant, faithfully caring for her family. Her husband and children were the blessed recipients of her love and daily home cooking, delicious pies and cream puffs, and skillful crocheting, quilting, sewing and stitching.

Throughout her life Loretta maintained a kind and sweet presence that won the hearts of many. Her children and grandchildren were nurtured by unfailing love and support. Loretta shaped her children's spirituality by her Christian example. Her gift of always seeing the glass half full shined through her smiles and laughter. Regardless of personal pain, she never complained.

Loretta is preceded in death by her dear husband; a precious son, Ronnie; her parents, Frank and Anne Venhaus; three brothers Ray, Oscar (Doris) and Wilbert (Eleanor) Venhaus; two sisters, Alvina (John) Bingaman and Pauline (Robert) Voss; and a son-in-law, Jack Carson.

She is survived by her children: Nancy (Ross) Kruep of Troy; Lori (Steve) Manske and Mike (Denise) McAllister of Breese; Debbie (Rick) Frey and Gayle (Rick) Gilomen of Highland; and Jill Carson-Kuhl (Don) of Breese.

16 grandchildren: Eric (Tonya) Kruep, Colby (Mary) Manske, Chris (Jene) Frey, Jason (Jen) Kruep, Jamie Manske (fiancé Chris Collett), Ryan (Cambrin) McAllister, Cory (Jenna) Frey, Heather (Rob) Baker, Kevin (Alexis) McAllister, Brent Gilomen, Kyle (Jenn) Manske, Bryan (Catherine) Gilomen, Blake Gilomen, Alex Carson, Macy and Holly Kuhl.

18 great-grandchildren: Hailey Baker, Kian, Mai Li, Colbie and Bennett Manske, Myla, Caleb, Coy and Bayn McAllister, Payton, Nolan, Retta and Kendall and Layla Frey, Alec, Cale, Luke and Connor Gilomen, and two more soon to be delivered.

She is also survived by sisters-in-law: Vernell Willeford of Albuquerque, NM, Marita (Bill) Loddeke of Breese, Eunice (Richard) McDowell of Albuquerque, NM and Alice McAllister of Glen Carbon, IL and nieces and nephews.

Visitation will be held Saturday, June 23, 2018 from 9:00-11:00 a.m. at St Dominic Church in Breese.

Memorial Mass will follow at 11:00 a.m. at St. Dominic Church in Breese. Burial of the cremains will be in St. Dominic/St. Augustine Cemetery, Breese.

Memorial contributions may be made to Residential Hospice or St. Dominic Church and will be received at the church or through Moss Funeral Home in Breese who is serving the McAllister family.