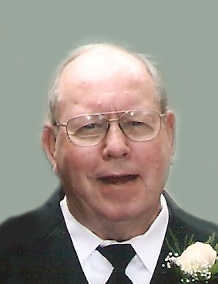 Lowell Wayne Hewlett
Visitation Dates and Times

Monday, October 6, 2014 4:00-8:00 p.m.
Tuesday, October 7, 2014 8:00-9:30 a.m.

Visitation Location

Moss Funeral Home, Germantown
Service Date

Tuesday, October 7, 2014

Service Time

10:00 a.m.

Service Location

St. Boniface Catholic Church, Germantown
Full Obituary

Lowell Wayne Hewlett, 82, of Germantown, died Friday, October 3, 2014 at St. Joseph's Hospital in Breese.

Mr. Hewlett was born September 24, 1932 in Granite City, IL to Delmar and Edith (Cochran) Hewlett; they preceded him in death.

In addition to his parents, he was also preceded in death by a brother, Kevin Hewlett; a daughter-in-law, Corrine Jolly; his father-in-law and mother-in-law, Vincent and Lucille (Hemann) Korte; a sister-in-law, Pat Pingsterhaus; and brothers-in-law, Earl Lindsey and Herb McClure.

He married Janette Korte on March 19, 1966 in Madison, IL; she survives in Germantown.

Also surviving are his children, Judie (Dennis) Kuper of Breese, Deb Hewlett of Kell, Darrell (Jamie) Hewlett of Breese, Cindy (Dan) Blumenstein of Breese, Suzanne (Craig) Markus of Germantown, Kenneth Wayne (Peggy) Jolly of Astoria, OR, David Lowell Jolly of Florida, and Rose (Bill) Stock of Belleville; 11 grandchildren, Paul and Caitlin Kuper, Dan (fiancée Amanda Henson) Howard, Kamryn Hewlett, Aaron and Chase Blumenstein, Dylan and Emalyn Markus, Lukas Jolly, Bradley, Bryan, and Beth Stock; 1 great-grandchild, James Ray Howard; siblings, Billy Dean (Joyce) Hewlett of Granite City, Kay Lindsey of Granite City, Carol McClure of Chesterton, IN, Thom (Helen) Hewlett of Granite City, Gary (Lisa) Hewlett of Collinsville, and Keith (Cathy) Hewlett of Richmond; brothers-in-law and sisters-in-law, Richard (Martha) Korte of Florissant, MO, Marcel (Diane) Korte of Albers, Mike (Cindy) Korte of Germantown, and Glen Pingsterhaus of Germantown; and numerous nieces and nephews.

Wayne retired after 42 years as an operator from Granite City Steel, was currently helping his son with farming, and was a proud veteran of the United States Army where he served during the Korean Conflict.

He was a member of St. Boniface Catholic Church and Germantown American Legion Post 325. His true love was his grandchildren, and he also enjoyed racing and farming.

Funeral Mass of Christian Burial will be Tuesday, October 7, 2014 at 10:00 a.m. at St. Boniface Catholic Church in Germantown with Fr. James Buerster and Fr. Patrick Peter officiating. Interment with full military honors will follow in St. Boniface Cemetery, Germantown.

Visitation will be Monday, October 6, 2014 from 4:00-8:00 p.m. and again on Tuesday, October 7, 2014 from 8:00-9:30 a.m. at the Moss Funeral Home in Germantown.

Memorials can be made to the St. Boniface Cemetery, St. Vincent DePaul Society food pantry, or to the donor's choice and will be received at the funeral home.

The Germantown American Legion will hold services at 7:00 p.m. Monday evening at the funeral home.