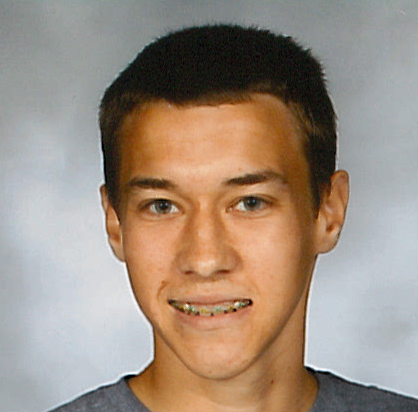 Luke R. Korte
Visitation Dates and Times

Wednesday, January 6, 2016 4:00-8:00 p.m.
Thursday, January 7, 2016 8:00-9:30 a.m.

Visitation Location

Moss Funeral Home, Breese
Service Date

Thursday, January 7, 2016

Service Time

10:00 a.m.

Service Location

St. Dominic Catholic Church, Breese
Full Obituary

Luke R. Korte, age 16 of Breese, born January 9, 1999 in St. Louis, a son of Richard and Lisa, nee Richter, Korte, died Monday, January 4, 2016 at Cardinal Glennon Children's Hospital in St. Louis after generously helping others as an organ and tissue donor.

Luke was currently a Junior at Central Community High School in Breese where he participated in Cross Country and Future Farmers of America (FFA). He was a member of St. Dominic Catholic Church in Breese, Breese Youth Ministry, Fellowship of Christian Athletes (FCA), worked part time at Hellige's Market in Breese, and enjoyed deer hunting and dirt track racing.

Surviving are his parents, Rich and Lisa Korte of Breese; a brother, Nicholas Korte of Breese; his maternal grandmother, Martha, nee Kruep, Richter of Breese; uncles and aunts, Steve Richter and wife Louise of Breese, Darlene Berberich and husband Ron of Trenton, Marvin Richter and wife Stacie of Breese, Pam Wellinghoff and husband Mike of Trenton, Teri Hall and husband Jeff of Breese, Ruth Korte of Trenton, Jean Fountain and husband John of Vero Beach, FL, Dori McIntyre and husband Dick of Carlyle, Rita Drees and husband Dennis of Trenton, Rosemary Thornton of Trenton, Charlie Korte of Breese, and Lynn Korte of Trenton; and numerous cousins and friends.

He was preceded in death by his maternal grandfather, Paul "Bandy" Richter; his paternal grandparents, Edmund and Leola, nee Lohman, Korte; an aunt, Julie Korte; an uncle, Terry Thornton; and a cousin, Eric Drees.

Funeral Mass of Christian Burial will be Thursday, January 7, 2016 at 10:00 a.m. at St. Dominic Catholic Church in Breese with Fr. Patrick Peter, Fr. Chuck Tuttle, Deacon Linus Klostermann, and Deacon Bob Lippert officiating. Interment will follow in St. Dominic/St. Augustine Cemetery, Breese.

Visitation will be Wednesday, January 6, 2016 from 4:00-8:00 p.m. and again on Thursday, January 7, 2016 from 8:00-9:30 a.m. at the Moss Funeral Home in Breese.

Per the family's request and in lieu of flowers, memorials can be made to the Cardinal Glennon Children's Hospital Foundation and will be received at the funeral home.