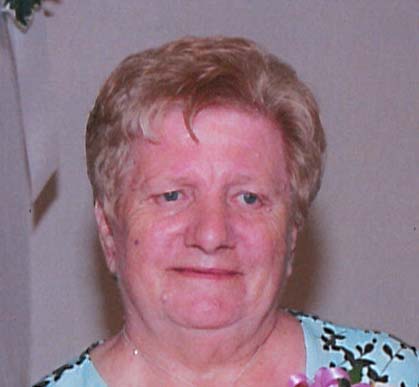 Margaret Ann "Margie" Ripperda
Visitation Dates and Times

Wednesday, March 4, 2015 4:00-7:30 p.m.

Visitation Location

Moss Funeral Home, Breese
Service Date

Wednesday, March 4, 2015

Service Time

7:30 p.m.

Service Location

Moss Funeral Home, Breese
Full Obituary

Margaret Ann "Margie" Ripperda, nee Deien, age 73 of Highland and formerly of Pocahontas, died Saturday, February 28, 2015 at Faith Care Center in Highland.

Mrs. Ripperda was born March 25, 1941 in Breese, a daughter of Vincent and Verena, nee Huene, Deien; they preceded her in death.

She married John Ripperda on April 25, 1960 at St. Augustine Catholic Church in Breese; he preceded her in death on July 22, 2007.

In addition to her parents and husband, she was also preceded in death by a son, Kevin Ripperda; grandchildren, Melvin Ripperda, Jr. and Danielle Ripperda; and brothers Vincent Deien, Jr., Donald "Doc" Deien, and Larry Deien.

Surviving are her children, Tina (Frank) Komoromi of Collinsville, Virginia (Jim) Rosen of St. Rose, Lori (Ronald) Hilmes of Pocahontas, Melvin (Janet) Ripperda of Pocahontas, Mark (special friend Renae Donohoo) Ripperda of Pocahontas, Gary (special friend Jeannie Markham) Ripperda of Mulberry Grove, Michelle (Pat) Bardill of Highland, Greg (special friend Ashley Wilkinson) Ripperda of Pocahontas, and Jeff (special friend Rachael Statler) Ripperda of Millersburg; adopted children, Angie, Nancy, & Dolores; 17 grandchildren, Michelle Lyons, Tony (Crystal) Komoromi, Amy Rosen, Nicole (Neal) Knebel, Travis Rosen, Kim (Brian) Obermark, Pam (Jeremy) Thole, Ashley and Melissa Hilmes, Aaron Riley, Natasha Donohoo, Vicki and Sherry Markham, J.D. and Brianna Ripperda, Melody and Alexis Ripperda; 9 great-grandchildren; siblings, Betty Deien of Highland, Jackie (Roger) Shurtz of Breese, Bruce (Sandy) Deien of Pocahontas, Nancy Deien of Breese, and Jerry Deien of Mt. Olive; and sisters--in-law, Fran Deien of Trenton and Jeannie Deien of New Baden.

Margie formerly worked at Koch Cleaners in Highland and attended a Non-Denominational Chapel in Pocahontas.

Funeral Services will be Wednesday, March 4, 2015 at 7:30 p.m. at the Moss Funeral Home in Breese with Brother Rocky Runion officiating.

Visitation will be Wednesday, March 4, 2015 from 4:00-7:30 p.m. at the Moss Funeral Home in Breese.

Memorials can be made to the donor's choice and will be received at the funeral home.