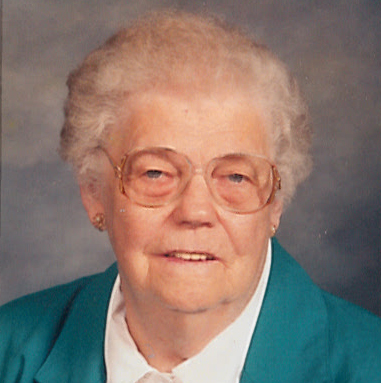 Martha K. Thole
Visitation Dates and Times

Friday, June 19, 2015 4:00-8:00 p.m.
Saturday, June 20, 2015 10:00 a.m.-12:00 p.m.

Visitation Location

Moss Funeral Home, Breese
Service Date

Saturday, June 20, 2015

Service Time

12:30 p.m.

Service Location

St. Rose Catholic Church, St. Rose
Full Obituary

Martha K. Thole, age 97 of St. Rose, born April 22, 1918 in Aviston, a daughter of Henry A. and Anna M., nee Deiters, Hilmes, died Tuesday, June 16, 2015 at Highland Healthcare Center.

She was preceded in death by her parents; her husband, John F. Thole, whom she married January 27, 1937 at St. Francis Catholic Church in Aviston and died November 10, 1958; a son-in-law, Ron Gilmore; sisters, Bertha Thole, Agnes Heldorfer, and Henrietta Wecker; and brothers-in-law and sisters-in-law, William Thole, Sylvester Wecker, Gregory and Alvina Thole, Sr. Regina Thole, OSF, and Vincent Thole.

Surviving are her children, Florence Pingsterhaus and husband Greg of Aviston, Gerald Thole and wife Jane of St. Rose, Lavern Thole and wife Eileen of St. Rose, Denis Thole and wife Mary of Highland, and Diane Gilmore of The Plains, Ohio; 11 grandchildren, Sharon Pollmann and husband Ken, Jeff Pingsterhaus and wife Jill, Randy Pingsterhaus and wife Denise, Duane Pingsterhaus, Brenda Whitlow and husband Dale, Barb Bellm and husband Jeff, Jim Thole, Beverly Kapp and husband Jason, Lynn Wuebbels and husband Brian, Debbie Lindh and husband Chip, and Sherri Jones and husband Brian; 19 great-grandchildren and 2 great-great-granddaughters; a sister, Marie Thole of Highland; and a brother-in-law, Eugene Heldorfer of Carlyle.

Martha retired as the store manager Triple Nickel Store in Pierron and was a member of St. Rose Catholic Church and Altar Sodality and the St. Rose Golden Age Club. Martha enjoyed quilting, piecing together and quilting hundreds of quilts.

Funeral Mass of Christian Burial will be Saturday, June 20, 2015 at 12:30 p.m. at St. Rose Catholic Church in St. Rose with Fr. Edward Schaefer officiating. Interment will follow in St. Rose Cemetery.

Visitation will be Friday, June 19, 2015 from 4:00-8:00 p.m. and again on Saturday, June 20, 2015 from 10:00 a.m.-12:00 p.m. at the Moss Funeral Home in Breese.

Memorials can be made to St. Rose Catholic Church and will be received at the funeral home.