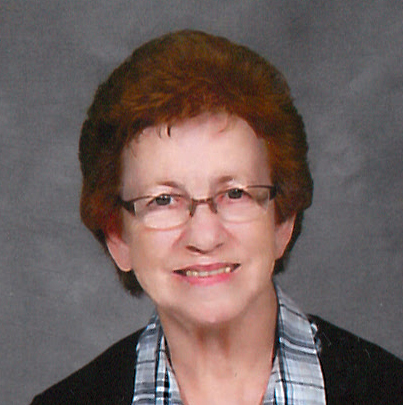 Mary "Lorraine" Huelskamp
Visitation Dates and Times

Tuesday, July 21, 2015 4:00-8:00 p.m.
Wednesday, July 22, 2015 8:00-9:30 a.m.

Visitation Location

Moss Funeral Home, Breese
Service Date

Wednesday, July 22, 2015

Service Time

10:00 a.m.

Service Location

St. Augustine Catholic Church, Breese
Full Obituary

Mary "Lorraine" Huelskamp, nee Krebs, age 82, of Breese, born March 25, 1933 in Carlyle, a daughter of Casper J. and Mathilda, nee Diekemper, Krebs, died Saturday, July 18, 2015 at her home surrounded by her family.

Mrs. Huelskamp worked along side her husband for several years in the kitchen at Mater Dei High School. She was a devoted member of St. Augustine Catholic Church, St. Monica Altar Sodality, and Quilting Committee in Breese, the Clinton County Serra Club, and the Associates of the Poor Handmaids of Jesus Christ.

Lorraine was preceded in death by her parents; her husband, Joseph "Dennis" Huelskamp, whom she married June 28, 1952 at St. Mary's Catholic Church in Carlyle and he died January 11, 2012; a granddaughter, Brooke Robert; sisters, Rita Jansen and Florence Wolters; and brothers-in-law and sisters-in-law, Clem Jansen, Sally Krebs, Ted Luebbers, Dick Lampe, Geraldine and Tony Luebbers, Herman and Lawrence Huelskamp in infancy, Jerome Huelskamp, Gerald Huelskamp, and Bob Wikman.

Surviving are her children, Kathie (Kevin) Korte of Breese, Theresa (Chuck) Luitjohan of Breese, Geralyn (Mick) Albers of Germantown, Doris (Tom) Goestenkors of Aviston, Bernadette Henrichs of St. Louis, MO, Gerard "Shorty" (Rose) Huelskamp of Breese, Denise (Bill) Trickey of Pierron, Angie (Pete) Fields of Highland, Mary Jo (Bill) Luitjohan of Pierron, Mark (Karen) Huelskamp of Breese, and Matt (Christa) Huelskamp of Highland; 29 grandchildren and 27 great-grandchildren; her siblings, Clarence Krebs and Helen Luebbers both of Carlyle, and Dolly Lampe of Breese; brothers-in-law and sisters-in-law, Ralph Wolters of Albers, Sr. Julia Huelskamp, PHJC of Donaldson, IN, Rose Aline (John) Saufnauer of St. Louis, MO, Eleanor (Al) Fiascone of Batavia, Lorine Wikman of Culver, IN, Lorene Huelskamp, Erwin (Maxine) Huelskamp and David (Mary Beth) Huelskamp all of Breese, Tom (Jeanette) Huelskamp of Santa Ana, CA, Joey (Marilyn) Benhoff of Evansdale, IA, and Mary Roberson of Oregon; and numerous nieces and nephews.

Funeral Mass of Christian Burial will be Wednesday, July 22, 2015 at 10:00 a.m. at St. Augustine Catholic Church in Breese with Fr. Chuck Tuttle officiating. Interment will follow in St. Dominic/St. Augustine Cemetery, Breese.

Visitation will be Tuesday, July 21, 2015 from 4:00-8:00 p.m. and again on Wednesday, July 22, 2015 from 8:00-9:30 a.m. at the Moss Funeral Home in Breese.

In lieu of flowers and gifts, memorials can be made to St. Augustine Catholic Church, Mater Dei High School, or to the Henrichs-Watanabe Scholarship Fund #5518, Barnes-Jewish Hospital Foundation, % Amber Johansen, CFRE, 1001 Highlands Plaza Drive West, Suite 140, Mail Stop 84-84-100,St. Louis, MO 63110 and will be received at the funeral home.